Former Liverpool midfielder Danny Murphy has retired with immediate effect.
Murphy last played a professional match in Blackburn Rovers' 3-0 defeat to Cardiff on 1 April this year and has been without a club since the summer.
The 36-year-old has appeared as a pundit on Match of the Day this season, which makes the timing of his retirement unsurprising.
"There have been some press reports about whether I'm still playing or available but I decided a little while ago I would retire, I just didn't make it official," he told talkSPORT.
"So now I'm officially retiring because I'm sick of having conversations about it and almost stringing people along."
Murphy was a pivotal figure during Liverpool's five-trophy triumph in 2000-01, when the Reds won the League Cup, FA Cup, Uefa Cup, Charity Shield and Super Cup under Gérard Houllier. He left for Charlton in 2004. Murphy on his final professional appearance
Following a fruitful spell with the Addicks and a disastrous stint at Tottenham, he spent five years at Fulham, making 210 appearances and 28 goals for the Cottagers as they reached the 2010 Europa League final.
Murphy signed for Blackburn last year after Fulham decided against offering him an extension and played the remainder of his career in the Championship.
He played nine times for England, scoring once in a 4-0 friendly win over Paraguay.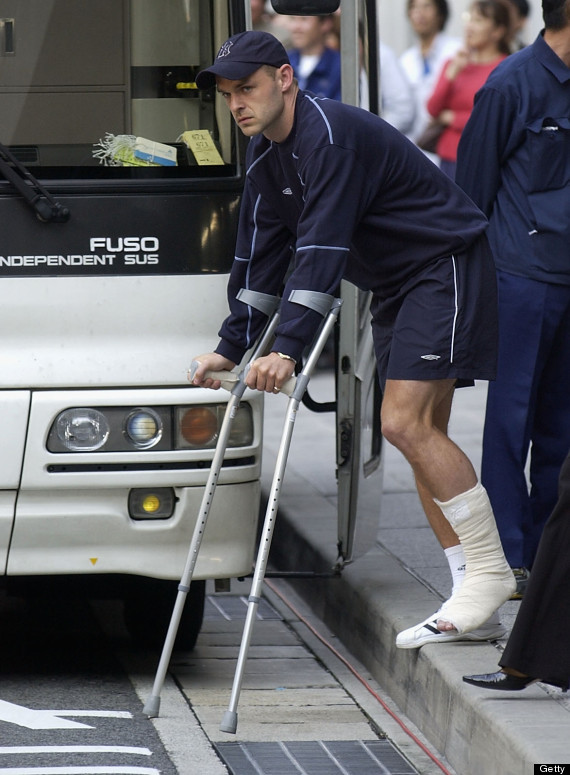 An injured Murphy heads home at Kasai Airport
The Crewe graduate was called up to England's 2002 World Cup squad as a replacement for injured club teammate Steven Gerrard, but had to withdraw after he suffered the metatarsal injury which had affected England captain David Beckham and scuppered Gary Neville's Japan and South Korea hopes.