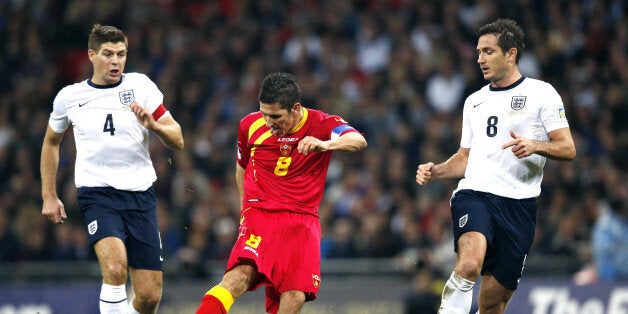 When Frank Lampard (1999) and Steven Gerrard (2000) first broke in to the England squad, the only axis of evil we feared was the prospect of David Batty and Rob Lee in the England engine room.
Sadly, Lampard and Gerrard have consistently been the itch that England managers could never scratch. England were suddenly blessed with two supremely skilled goalscoring midfielders who could never effectively combine as a pairing, no matter how hard successive England managers tried to find the right formula. As both players reached the twilight of their careers, Roy Hodgson gave the partnership one last try.
Tonight, after a combined 207 caps, Lampard and Gerrard started together in a deep midfield pairing as England eased to a 4-1 victory over a very poor Montenegro side. Even in a relatively routine win, the combination of the anonymous Lampard and the forlorn Gerrard remained the elephant in the room.
Gerrard's influence has waned with age, and he has become almost entirely reliant on his traditional calling cards of long-range piledrivers and raking Hollywood passes. Hodgson will point to Gerrard's 'big game experience', but this is negated by his loss of stamina, as evidenced during Euro 2012 when he faded badly in the second halves of games. Lampard perhaps still has marginally more to offer, but playing in such a deep role negates his best attribute – scoring goals.
As England look beyond Tuesday's game with Poland, youth must be the focus. The exciting Andros Townsend may well create and frustrate in equal measure, but watching England youngsters play with verve and ambition is infinitely more exciting than watching James Milner play on the wing. Jack Wilshere has much to learn but remains a great prospect as a tenacious and driving force in midfield, whilst in years to come Ross Barkley may well become a feature. For now, the calming influence of Michael Carrick and the verve of Wilshere seems England's most balanced central pairing.
Should England seal qualification on Tuesday, attentions will turn to Brazil next year, and with that they should also turn to phasing out the remaining members of the so-called Golden Generation.
If the alchemist was out on the town the day that the Golden Generation was supposed to be created, he's resting up in a nursing home now. Lampard and Gerrard have enjoyed excellent careers and deserve considerable recognition for their haul of caps and achievements at club level – but eventually all good, bad and maddening things must come to an end – including this partnership.
It is likely, however, that Hodgson will continue to select Lampard and Gerrard together in midfield. When they finally do depart the international stage, one assumes that a few former England managers will share a rueful smile and wonder what might have been.