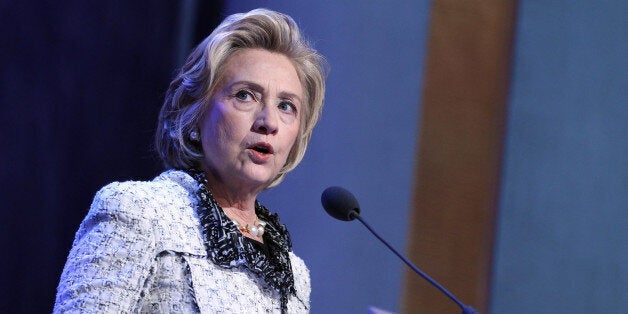 Hillary Clinton has raised concerns about the "distressing" shutdown of the United States federal government amidst several international crises and defended the "critical" work done by American intelligence agencies.
Speaking in London on Friday evening, the former US secretary of state said while she did not want to criticise her own country while abroad the impasse at home did have global impact.
"It's distressing at any point to see a political system that has weathered so many crises over centuries now being caught up in what are very unfortunate partisan disputes," she said.
"Underlying them are questions about America's direction at home and abroad. And I am confident we will work our way thought this latest challenge as we did during my husband's administration".
Clinton, the front-runner for the Democratic nomination for president in 2016, was speaking as she made wide ranging remarks after accepting an award from the foreign policy think-tank Chatham House.
Her comments come amid concerns among Western allies that the shutdown of the US government is affecting its ability to engage in crucial international hot spots including the civil-war in Syria and the fragile negotiations with Iran.
Asked about the revelations about the access US and UK intelligence agencies had to Internet communications, Clinton said the capabilities revealed by Edward Snowden were "critical" to public safety.
"On the intelligence issue, we are democracies thank goodness, both the US and the UK," she said. "We need to have a sensible adult conversation about what is necessary to be done, and how to do it, in a way that is as transparent as it can be, with as much oversight and citizens' understanding as can be."
But she added: "There are some things from my own experience as a senator as a secretary of state that really are critical ingredients in our homeland security and helping to protect people in other countries as well.
"Much more personal information about many more Americans is held by businesses in the US than by our government. It would be going down a wrong path if we were to reject the importance of the debate, and the kinds of intelligence activities that genuinely keep us safer."
Popular in the Community