Robbie Williams has had a colourful career what with his Take That days, solo fame and now fatherhood, but it appears the effects of the celebrity lifestyle have taken their toll on his hair - he's gone grey!
The singer was looking more debonair than in his younger days as he posed for a photo during his visit to Emma Bunton's radio show on heart FM.
While he may have ditched the idea of reaching for the (dye) bottle he did go for a more modern style with a David-Beckham inspired comb over.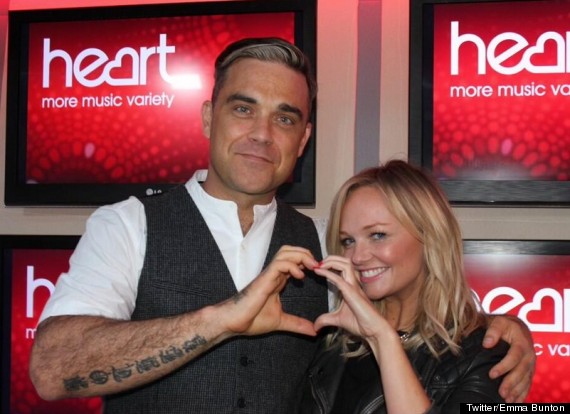 Robbie Williams and Emma Bunton
To keep up the gent theme, Robbie went clean shaven and even wore a waistcoat – how dapper!
But greying hair isn't the only age battle Robbie is facing, he admitted he's 'gutted' BBC Radio 1 no longer play his tracks, telling Radio 4: "I'm very ambitious, so when Radio 1 goes and is taken away from you, a huge bit of your arsenal goes."
But he soon bit back after scoring a No.1 single with 'Candy' despite the song failing to make the station's playlist – nice going Rob!
LIKE

US ON FACEBOOK

| FOLLOW US ON TWITTER