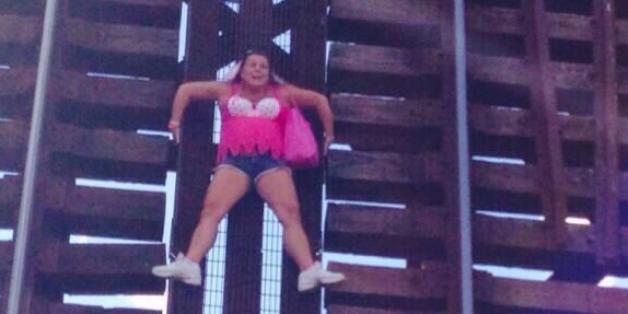 Twitter.com/DT007
A woman on a charity walk for breast cancer was left clinging to a railroad drawbridge, when the contraption rose into the air.
The unidentified woman, dress all in pink, was named only as a 55-year-old from Dania Beach taking part in the Making Strides Against Breast Cancer 5K.
The railroad bridge over Fort Lauderdale's New River in Florida, which is closed to pedestrians, wasn't part of the route.
in other news a lady got stuck on the bridge today at the breast cancer walk pic.twitter.com/TmWvemNchP

-- Gabriella S. (@mszgabbii) October 12, 2013
YIKES! Closer pix woman dangling New River RR bridge #FtLauderdale during breast cancer walk; was rescued. pic.twitter.com/dSGKHVNRBm

-- Darcy Tannebaum (@dt007) October 12, 2013
There was a lady stuck on the bridge at the breast cancer walk... pic.twitter.com/NickN5KwZ0

-- Paige Hampton (@Paigeeeee_16) October 12, 2013
@CBSMiami yes, you can. I have this one too. pic.twitter.com/HcCkgQ9h46

-- Paige Hampton (@Paigeeeee_16) October 12, 2013
"This bridge is controlled from Tallahassee. There's not a bridge minder here anymore," he told NBC6.
"So she's stuck on the bridge and she's going up. The next thing is, she's stuck, straddled like Jesus Christ."
CBS Miami reported the woman was unhurt and firefighters were able to rescue her with a ladder.