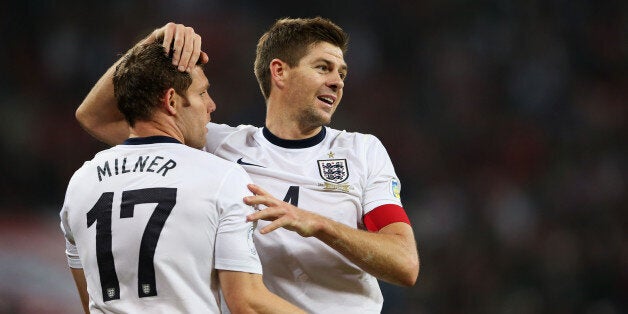 Wayne Rooney and Steven Gerrard struck at the end of either half as the Three Lions topped Group H.
Here are five talking points.
ROONEY DELIVERS IN DEEPER ROLE
The excellent Wayne Rooney again revelled in a position that should have been his own long ago. He played with great awareness, was clever in possession throughout and scored a crucial goal.
Since excelling in Euro 2004, Rooney's international career in major tournaments has been a story of injuries, suspensions and underperformance. He seems to have now regained both his touch and confidence, and with a calmer head and less expectation on his shoulders he could be well placed to thrive in Brazil. Rooney is still England's best player and should certainly be the creative focal point of the side for the foreseeable future.
ENGLAND 2-0 POLAND: WORLD CUP QUALIFIER MATCH REPORT
STURRIDGE SHOWS PROMISE...AND ROOM FOR IMPROVEMENT
Daniel Sturridge is likely to go to the World Cup as England's number nine, and quite rightly, given his performances at club level and swift adaption to international football. Sturridge provides England with pace and verve up front and tonight he proved he is also willing to chase and graft for the good of the team. Between now and next summer he must improve his decision-making in front of goal and hold up play. On occasions he suffers from tunnel vision around the penalty area and fails to spot openings when teammates are better placed.
HODGSON TOO CAUTIOUS WITH SUBSTITUTIONS
Bringing on Frank Lampard at a time when England found themselves under pressure in the second half was a mistake Roy Hodgson could well have been made to regret. England were not crying out for experience but young, fresh, able legs to interrupt the momentum of an improving Polish side. Within minutes of his arrival Lampard was booked and had surrendered possession twice. If a change needed to be made, then Jack Wilshere should have been the man to enter the fray. Hodgson is often too conservative and needs to make changes that are designed to put England on the front foot - holding on to a one goal lead won't work against better teams.
ENGLAND 2-0 POLAND PLAYER RATINGS: HAVE YOUR SAY
ENGLAND SHAKY AT THE BACK
For all of the positives in England's performance, they remain worryingly susceptible on the break against teams who exhibit genuine pace. If not for the wasteful Robert Lewandowski, tonight's game may have had a different ending. Part of the issue lies with England's static central midfield, which requires a true 'terrier' to break up play. In defence of Roy Hodgson, he has a paucity of quality defensive options to choose from.
Tonight's performance from Leighton Baines must surely put one argument to bed - that he should now be England's first choice left back. Ashley Cole has often been exceptional for England and it is no fault of his that Baines should now overtake him in the pecking order. Whilst some may put forward the argument that Cole remains a marginally better defender, more often than not England are expected to attack, and the creativity and dead ball prowess of Baines adds an extra dimension to their threat going forward.
Popular in the Community