Kate O'Mara would love to reprise her role in 'Doctor Who' of The Rani, one of the few characters to match the irrepressible Time Lord for wit, power and supernatural abilities.
The popular British actress tells HuffPostUK:
"I'd love to come back as The Rani another time around.
"To have a much older woman as your adversary, there's something interesting about that.
"She's learned so much over the centuries – it would be like in the fairy stories, where it's always the old woman who is the most frightening."
With the 50th anniversary of Doctor Who coming up, O'Mara remembers very happily her time on the show…
"The part was written for me. I was with Colin Baker and Sylvester McCoy. She is a Time Lord, she is supposed to have been at university with the Doctor, and she's an enemy from way back, because she wants domination of the whole Galaxy."
Why does O'Mara think the show has lasted so long?
"It's perfect for all ages," she reflects. "It probably started off as a sophisticated children's thing, but there's something fascinating about someone who can traverse time. Regeneration, like being able to fly, really grabs the imagination. And you this mortal enemy like Moriarty, and a struggle between good and evil, which goes on forever."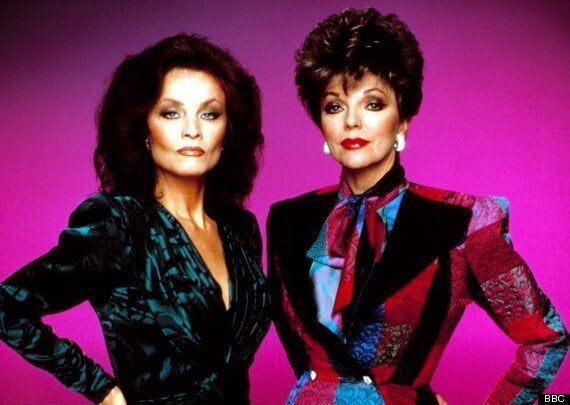 With her 'Dynasty' co-star Joan Collins
The actress, a veteran of shows from 'Triangle' to 'Dynasty' as well as decades of stage work, is known for her glacial allure, the withering gaze and put-down, but she's adamant this isn't the real her…
"I'm actually quite a nice person," she says sweetly of the perception of her. "It's to do with the way I look, an uncompromising sort of face, brusque delivery and voice, and I think the combination of all that.
"When I'm doing pantomime, children will scream the place down, before I open my mouth. There's obviously something that really gets them."
And she definitely has a sense of humour too, remembering the surreal time of her years living in LA, where she worked alongside Joan Collins on 'Dynasty':
"I was Caress – who's called THAT?" she laughs. "I was in Hollywood for two years, and the only way to approach it was with a sense of humour, because they took everything so seriously.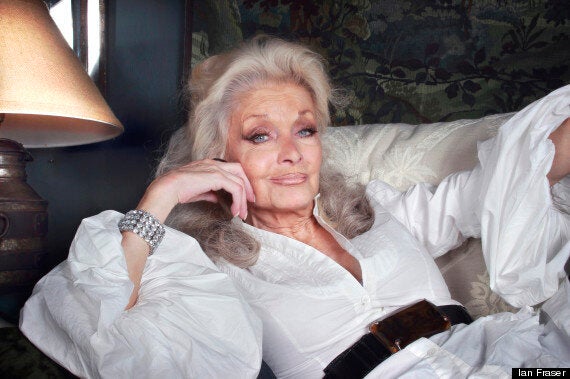 Kate O'Mara is happy to have gone silver - "it might lead to more interesting work," she explains
"All the time spent on lipstick and hair, which are really of minor importance in the scheme of things. By the time they'd finished, I never recognised myself, the make up was so flawless and the lighting superb. 'Who's that creature? My goodness, it's me.'"
Now, O'Mara's happily back in England, moving to be nearer her grandchildren, and still grafting, from drama coaching to workshops, to her own two-hander play about Marlene Dietrich.
And she'll be in demand at the upcoming Doctor Who 50th anniversary, for which she's sharing the anticipation of many a fan…
"I'm going to go. It's important isn't it? One of two female Time Lords. Not bad."
'An Evening with Kate O'Mara' takes place on, Saturday 19 October 2013 at 7pm at The Misty Moon Gallery, Ladywell Tavern, 80 Ladywell Road, SE13 7HS. More info here
Kate will also attend the Doctor Who 50th Anniversary celebration at London's Excel in November. More info here.