These dramatic images show smoke billowing from fires in the west of Sydney shrouding the famous harbour as huge bushfires hit New South Wales, Australia.
Hundreds of people have been left homeless as the most serious bushfire emergency in a decade tore through the area.
Of the 100 fires, about 40 were still raging at around 5.30pm local time.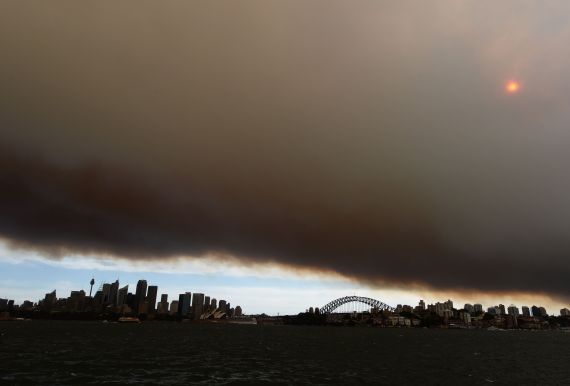 Smoke billowing from fires in the west of Sydney
Sydney residents in the city's western suburbs have reported seeing burning embers, up to 30 kilometres from the fire front, according to the Daily Telegraph.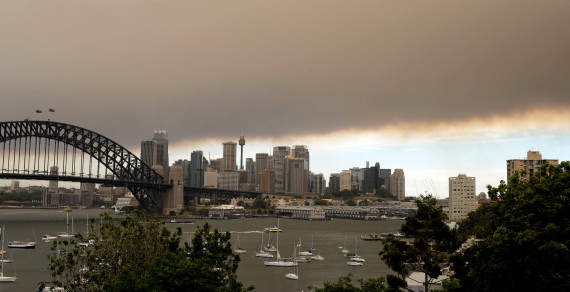 The fires have been called the worst emergency in a decade by fire chiefs
"People will notice smoke drifting into Sydney as a result of the fire at Lithgow [near the Blue Mountains]," said a Rural Fire Service spokesman.
"Wind gusts are expected to be in excess of 70km/h."
#NSWRFS Commissioner Shane Fitzsimmons: "If we get through with less than 100 homes destroyed today, we have been lucky". #nswfires

— NSW RFS (@NSWRFS) October 17, 2013
Senior school students set to take exams on Thursday have been urged not to risk their lives to get to school.
"Year 12 are sitting exams. Don't put yourself in danger to attend the exams tomorrow. Relax the board of studies will look after you," New South Wales Premier Barry O'Farrell told local media.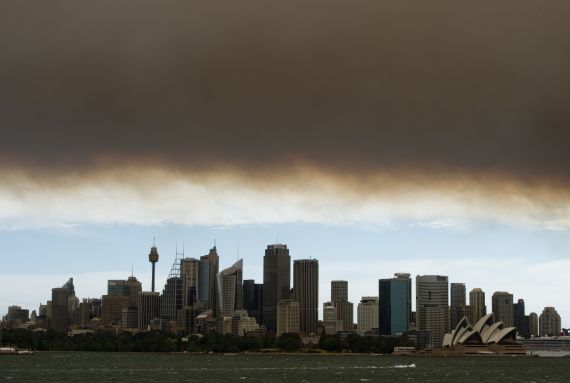 Elderly people and asthmatics have been told to stay indoors
Joe Moore, who lost his home in Springwood, told Sky News from the Springwood Country Club which is acting as an evacuation centre, it was his "dream home" that was lost in the perfect storm.
"A big fire came up with 100km an hour winds, it got out of hand, and it's nearly the perfect storm, we have 2 months of high winds, seven years of debris, there is plenty of fuel on the ground and now we have a fire out of control," he said.