Ince last week learned he would not be allowed to enter any stadium Blackpool were playing in for their next five contests following an incident during their 2-1 win at Bournemouth last month.
The Seasiders boss was sent to the stands after throwing a bottle which hit a female spectator and his irate reaction after the final whistle breached three rules, say the FA.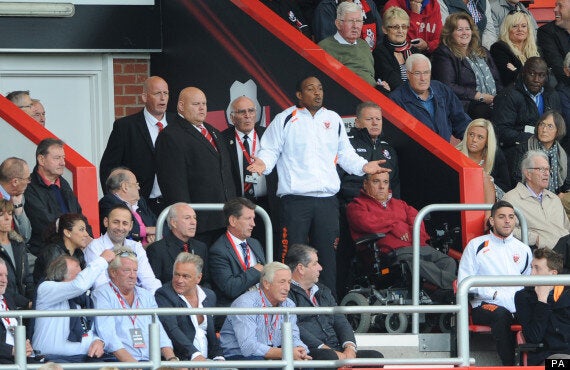 Ince in the Dean Court stands
On Thursday the FA disclosed the full extent of Ince's actions as it revealed he physically assaulted fourth official Mark Pottage while using a series of expletives.
In the report, referee Oliver Langford said: "At the end of the game as we left the field of play as a team of match officials we were confronted by a clearly very irate Mr Paul Ince.
"On confronting us Mr Ince asked why he had been sent to the stand. I explained to Mr Ince the reason why he had politely been asked to leave the technical area. It was then a clearly frustrated Mr Ince had said 'and where's your busy f****r of a fourth?'.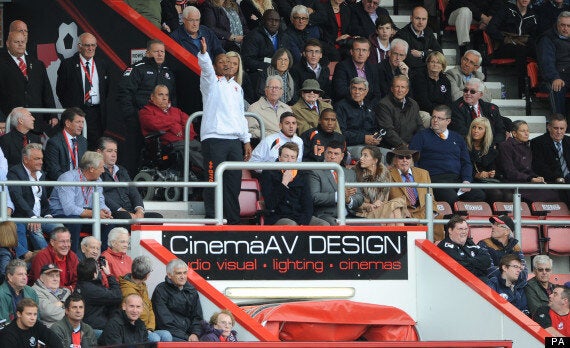 Ince protests his punishment during the game
"Mark Pottage, the fourth official, was stood behind Mr Ince at the time and said 'I'm here'.
"Mr Ince then turned around and violently shoved Mr Pottage with two hands in to the chest. Stewards then quickly stepped in and tried to usher Mr Ince to the dressing room area.
"As this occurred Mr Ince, being restrained by stewards and players of Blackpool, was repeatedly shouting in an aggressive manner 'I'll knock you f*****g out you c**t' to Mr Pottage."
Langford added "Mr Ince's eyes were bulging" as he squared up to Pottage.
Giving his own evidence Ince, who denied using the word "c**t" said: "As I turned around, Mr Pottage stepped forward and was 'fronting me up' in my face.
"I felt intimidated, so I instinctively pushed him away.
"The push was not aggressive; only enough to move him away from where I was, only in order to avoid a real possibility of a one-to-one confrontation, however, I know I should not have pushed him and I wholeheartedly apologise."
The FA, though, found all three breaches of the Rule E3 were proven and imposed a five-match stadium ban on Ince as a result.