A successful businesswoman and journalist with her fingers in many organic and philanthropic pies, she co-founded and grew Green and Black's Organic Chocolate before the brand's acquisition by Cadbury's in 2005.
Somehow she manages to find time for early-morning yoga classes, knitting and growing tomatoes without taking her foot off the pedal.
We caught up with her to steal borrow some ideas about work-life balance.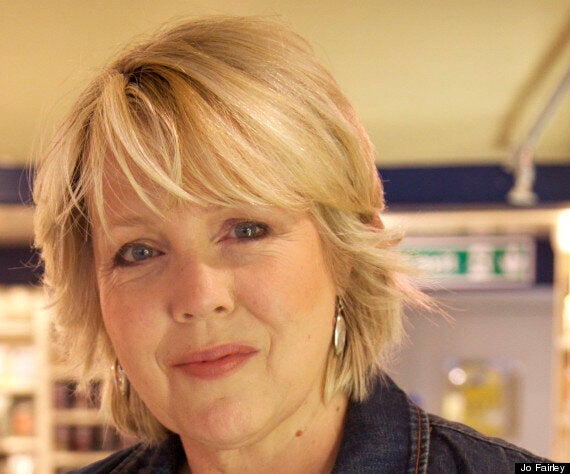 Describe a day in the life of Jo Fairley
I'm awake by 6.15am without fail - I've always been a lark - and brew a pot of The Rare Tea Company's Hurcules Tea (my friend Henrietta Lovell runs the company and made an extra-strong custom blend just for me).
If I'm not at a yoga class by 8am, I like to be at my desk by 8.30am - usually having spent at least an hour working through the paperwork I brought to bed last night, but am too tired to read last thing!
There really isn't a typical day - I could be writing a speech, book copy, a magazine feature or a newsletter for our health and wellbeing centre - but what's important for me is to maintain focus as I segue between tasks.
I often work through till 8 pm, barely taking a break (except for a daily 20 minute minimum walk). Breaking off is bad for my concentration, though I think the real key to having so many projects on the boil is keeping careful notes of everything I'm working on (I am obsessive about my 'Worklist'); otherwise it's too easy to lose track.
My husband Craig and I dine together and I like to be in bed by 10pm, though often not asleep till midnight - with the help of a Binaural Brainwave App on my iPhone, which lulls us to sleep with thunder and lightning and pulsing, brain-relaxing waves!
Wellbeing is an important part of your life, how do you achieve work/life balance with so many projects?
With regular yoga, walks and meditation and a ton of vitamins/supplements.
Weekends are my down-time. I never work between Friday night and Sunday morning, but don't mind working Sundays (dullest day of the week, if you ask me!
Family is hugely important to me: my step-kids are grown up but I have four step-grandchildren (they've known me all their lives, so I really am their granny), and we like to spend time with them.
I also love gardening. Mostly this involved pointing at someone else holding a spade, but I love the design, the tweaking, the picking of the flowers...
You and your husband launched your own wellbeing centre in Hastings, can you tell us a bit more about it?
We set the centre up five years ago because for 'Down From Londoners' like us there really was no centre for complementary medicine, Pilates or yoga - the 8 am classes were set up as my personal indulgence, but happily plenty of other people love them too.
I'm a great believer in 'local', and the power of community, especially as a counterpoint to this digital age. Until recently we owned a thriving bakery in the town; the health centre was also an important part of the picture, for us, moving down from London.
Hastings has been an important part of my life since childhood; my two brothers live here, my best friend moved here (from Sydney), and we have wonderful friends - and time to see them, without tearing halfway across a city and having to find a parking place. And when you can walk to the end of your street and swim in the sea for five months of the year, what's not to love?
How else do you let off steam and relax?
On Monday nights, like clockwork, I knit and natter with a bunch of eight Hastings-based girlfriends; we take it in turns to knit in each other's homes.
You've said in the past that practising yoga makes you a better boss, can you explain how?
Yoga clears my head and allows me to focus, which makes for good communication and clarity: there is nothing worse than a boss who's muddle-headed, unsure of priorities and lacks focus. People in an office then don't know where they stand.
It also makes me flexible (in every way), which makes me feel calm. I am a great believer in a saying from Hilary Totah, one of my yoga teachers, who maintains: 'flexible spine, flexible mind'.
How do you make your workplace an enjoyable place to work?
An attractive working environment - vintage cushions, state-of-the-art computer technology, and, thanks to IKEA, affordable desks, nice chairs, etc. I've worked in miserable, airless, windowless offices and hated them.
But mostly, I believe in giving people responsibility and then letting them get on, knowing what their deadline is.
I'm very flexible as an employer: I have faith if someone takes time off, they'll get the job done nevertheless.
And last but not least: laughter! We laugh a LOT in the office (occasionally black humour, but hey...)
You believe you can change the world through business. Can you elaborate?
Corporate Social Responsibility (CSR) was in Green & Black's DNA from day one: I believe, like my friend and mentor Anita Roddick, that you can do good through doing business and the two are not mutually exclusive. Since we started trading with the Maya Indians, for instance, in Belize, there's been a massive increase in the number of children attending secondary school (and there was no secondary education in the villages before the farmers had the secure income from selling their cacao at Fairtrade prices).
In addition, I have helped to harness the enormous goodwill and resources of the beauty industry through a project I've been running for Centrepoint, for the past 12 years (along with my friend and colleague Sharron Lowe, and a board of industry volunteers): we offer two-night makeover workshops for homeless girls which are literally life-transforming. It costs nothing - except the time to co-ordinate it; everything is donated by beauty brands (goody bags and the services volunteered by their hairstylists/make-up artists).
For me, it's another way to change the world through channelling business energy and resources.
Green and Black's chocolate is organic. How does that fit into your way of thinking?
I don't want to eat pesticides and agricultural chemicals, or unproven GM foods. I don't want the planet poisoned by them, either.
Almost everything (except Marmite) that we eat and drink at home is organic - which basically means we can eat pretty much everything, nowadays. We also grow a lot of our own food (well, my husband does mostly, though I'm good at tomatoes).
You co-founded Green and Black's with your husband. How did you split up responsibilities?
He was nuts-and-bolts: distribution, operations, money. I was PR, marketing, customer service and product development.
It was really easy because we have complementary skills, and the trust to do what the other person would, in the same situation.
At night, we'd walk around Notting Hill for an hour downloading the day, brainstorming etc., and when we got home we weren't allowed to talk business until next day. Which meant we could enjoy being married as well as being in business together!
When you started out, did people treat you and your husband equally?
I don't think I've experienced any sexism, really, in business. Or I've been blind to it. But I've never been aware of any 'don't-worry-your-pretty-little-head' moments.
How has setting up with your husband affected the way you have been seen as a businesswoman?
I don't think it's very different to any partnership, to be honest - and I don't think it's affected how I'm viewed.
There are some people who've tried to pigeonhole us (which always makes us laugh) as a 'power couple', as a result, but we're much too laid-back for that to apply!
You write regular business pieces for The Telegraph's 'Wonder Women' - why is it is important for successful women like yourself to lead and inspire other women?
I didn't realise how much I liked writing about business and success until I started this column.
I used to consider myself an equalist: I believed everyone was equal and deserved an equal chance in the work environment. But I've become increasingly aware - through enduring pay differentials, lack of women on boards - that we're not there yet, and we need more help.
I've actually turned into a bit of a born-suffragette as a result!
I was always inspired by women, when I started on my business journey - Anita Roddick was a friend and mentor, who helped keep my passion blazing when things got tough. I think women are great at mentoring other women - in fact, we're honour-bound to do so - and I now at any one time have four or five younger women 'under my wing' in some way who I feel my experiences can help, and who I've been happy to give a bit of time and advice to, because I think their businesses have the potential to be very successful.
There's Danielle Dunn of DDCA (a fantastic digital agency) in Newcastle, Laura Clempson (a fantastic illustrator of a range of characters under the 'Cupcakes for Clara' banner), Henrietta Lovell (aforementioned Rare Tea Lady), Jennie Dawson (Rubies in the Rubble, who turn unwanted produce into preserves with a workforce made up of disadvantaged women). Watch them fly!
If you could give one piece of advice to women looking to start their own business, what would it be?
When I was 16 I bought a postcard of a man on a diving board which said, 'If you don't do it, you'll never know what would have happened if you had done it'.
I felt the risks of launching Green & Black's was less of a risk than NOT doing it because I'd always have wondered...
If a business venture feels like that, then follow your instinct and dive in. I've never regretted it.