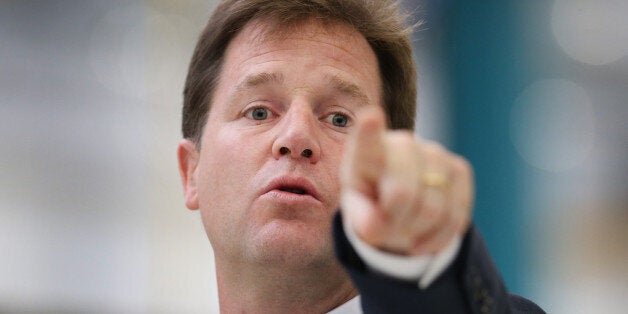 The five things you need to know on Sunday 20 October 2013...
1) HAS CLEGG FOUND HIS COJONES?
"The Tory-Liberal Democrat coalition has descended into open warfare over education policy as Nick Clegg dramatically disowned the 'ideology' driving much of Michael Gove's controversial schools reform programme.
"In a speech this week, extracts of which were released on Saturday night, the deputy prime minister will say that unqualified teachers should not be allowed to teach in state-funded schools and that parents need more reassurance about standards and the curriculum. 'Parents don't want ideology to get in the way of their children's education,' he will say."
"Addressing the issue of unqualified teachers, Clegg will make clear that anyone teaching in a state school should be fully qualified, or be working towards a full qualification. 'Frankly it makes no sense to me to have qualified teacher status if only a few schools have to employ qualified teachers,' Clegg will say."
The Deputy PM will also demand that free schools teach the national curriculum.
The question then is: how does Michael Gove respond? With a shrug of the shoulders? And what will David Laws, Michael Gove's Lib Dem mini-me say? Last week he was defending free schools and unqualified teachers but, speaking on Sky's Murnaghan programme this morning, Clegg made it pretty clear that the "party" line differed from Laws' "departmental" line.
2) GUESS WHO'S ADVISING CAMERON ON GAS?
You could not make this up; a true gift to Ed Miliband and Labour. From the Sun on Sunday:
"David Cameron is taking advice from a British Gas boss — despite criticising the firm's 9.2 per cent price hike.
"Millionaire chairman Sir Roger Carr is said to provide "high-level advice to the Prime Minister on critical business and economic issues facing the country".
"Last night the PM was slammed for publicly condemning British Gas while privately taking tips from its boss."
Oh and there's more pressure on the government to get tougher on energy firms such as British Gas - this time from Lambeth Palace, not the Labour Party. The Mail on Sunday reports:
"The Archbishop of Canterbury has criticised energy companies for imposing huge price rises that will hammer struggling families.
"Justin Welby said power giants had a 'massive' moral duty beyond squeezing customers for maximum profit, and challenged the firms to justify their huge increases in bills.
"The Archbishop, himself a former oil executive, said he understood the anger over apparently 'inexplicable' rises and called on the companies 'to behave with generosity and not merely to maximise opportunity'."
Meanwhile, the Sunday Telegraph reports that "senior Tories are drawing up a secret plan to cut green taxes as part of an overhaul of the energy industry designed to reduce customers' bills". I guess that'll give Clegg an opportunity to do some more 'differentiating' from his coalition partners...
3) MAURICE'S WARNING TO DAVE
Maurice Saatchi, who made his name as Thatcher's advertising guru, has written a piece in the Mail on Sunday in which he warns Cameron's Conservatives that merely dismissing Ed Miliband as a 1970s-style socialist or Marxist will help the Labour leader obtain the keys to Downing Street. He writes:
"Many Conservatives rejoice at this news, that Labour is again about to sign 'the longest suicide note in history'. Is that true?
"It's been 21 years since the Conservative Party won an Election. You hear it said that the party was unlucky to have a succession of five leaders with insufficient appeal to voters. That seems statistically unlikely.
"A more plausible explanation is that the party has lacked a marching tune people can respond to.
"This might be because it has underestimated the power of socialism."
BECAUSE YOU'VE READ THIS FAR...
4) A PAY RISE FOR POLITICIANS? HAVE THEY GONE MAD?
"David Cameron is heading for an explosive row with his party over MPs' pay as leading Tory backbenchers today call on him to show "leadership" by backing a salary increase of up to 11%. The issue is coming back to haunt the prime minister just months after he, Nick Clegg and Ed Miliband all condemned the idea of a big one-off rise put forward by the Independent Parliamentary Standards Authority (Ipsa)... All three leaders said then that MPs could not be seen to accept an 11% pay rise – from the current £66,396 a year to £74,000 from 2015 – at a time when most people are seeing their real wages decrease... Influential Tories say Cameron should perform a U-turn and resolve the pay issue rather than bow again to fears of a public backlash."
Public reaction? There'll be a good chance of riots if MPs give themselves a pay rise while freezing everyone else's wages...
The understatement of the weekend comes from the US ambassador to the UK. Speaking on the Marr show, in his first major UK TV interview, Matthew Barzun said:
"There is no doubt that what we saw over the 17 days of shutdown... was, how do I put this diplomatically, not our finest hour."
The Tea Party extremists of the Republican Party have no regrets, however, and are planning to take revenge on moderate Republicans who ended up doing a deal with the Obama White House. The Sunday Times reports:
"They have been branded as Rinos — Republicans in name only — after siding with President Barack Obama last week to end the government shutdown and avert a debt default.
"Now these 'white flag wavers' face a cull at the hands of Tea Party activists furious at what they see as a betrayal.
"Top of the hit list is Senator Mitch McConnell of Kentucky, the Senate minority leader. McConnell crafted the bill that raised the debt ceiling and reopened the federal government after a partial shutdown estimated to have cost the United States about $24bn."
Meanwhile, Hillary Clinton sits on the sidelines, chuckling, as she waits for the White House to be delivered to her on a plate in 2016...
"I think Blair now is a very sad man, rich, but [he] betrayed everything the Labour Party was about." - former BBC Director General and one-time Labour supporter Greg Dyke comments on Tony Blair's post-prime-ministerial activities.
The polls are all over the place this Sunday morning, giving Labour leads of - depending on which one you believe - 11, 6 and 3 points!
From the Observer/Opinium poll:
That would give Labour a majority of 108.
From the Sunday Times/YouGov poll:
That would give Labour a majority of 78.
From the Independent on Sunday/ComRes poll:
That would give Labour a majority of 28.
@KevinBrennanMP Clegg seems to be agreeing with Labour on qualified teachers in Free Schools - if only he had a Lib Dem Schools Minister... #libdemcant
@timmongtomerie Clegg sees Gove as a weak point. His reforms are right but No 10 have been worried for some time at his reforms' unpopularity with public.
@sunny_hundal Shouldn't Clegg have demanded "minimum qualifications" for teachers at Free Schools *before* he voted in their favour? #murnaghan
Andrew Rawnsley, writing in the Observer, says: "Letting the social ladder rot away is unjust. It is also a stupid waste."
John Rentoul, writing in the Independent on Sunday, says: "Tristram Hunt is handy if Ed Miliband loses Labour's love."
Gloria de Piero MP, writing in the Sun on Sunday, says: "I am not proud of topless photos...but at least I can speak for ordinary women."
Got something you want to share? Please send any stories/tips/quotes/pix/plugs/gossip to Mehdi Hasan (mehdi.hasan@huffingtonpost.com) or Ned Simons (ned.simons@huffingtonpost.com). You can also follow us on Twitter: @mehdirhasan, @nedsimons and @huffpostukpol
Related