Wrapped in a candy-striped blanket, rescuers can only imagine the trauma that baby elephant Bahati has been through.
Just six weeks old, Bahati was found running, terrified, away from an unknown threat, heading straight towards the main motorway to Mombasa, Kenya's second biggest city. He was close to the main railway line, and risked being hit by a train.
Rescuers from the David Sheldrick Wildlife Trust who found him in a distressed state, found no carcass nearby, though they suspect his mother may have been killed by poachers.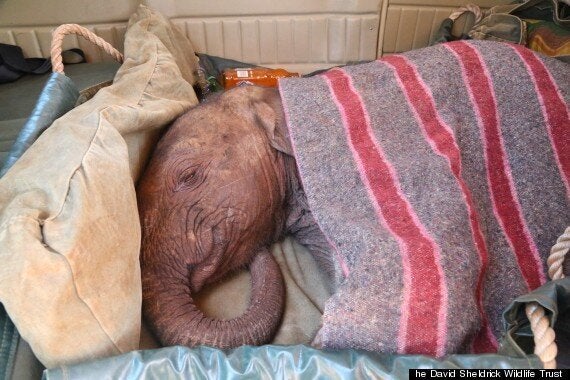 Baby Bahati, just six weeks old, rescued in Kenya
"Bahati is a bit of a mystery," the trust's Lucy Read told HuffPost UK. "There was no herd nearby, and Bahati was clearly fleeing from something, he was running in no particular direction.
"He can't have been alone very long, or he wouldn't have survived, two days at the most."
Bahati is being looked after, fed on milk formula and given medicine to get his strength back, at the charity's nursery for orphaned baby elephants.