You may feel like your meals are shrinking, but according to charity British Heart Foundation, if you buy ready meals from the supermarket, they've actually doubled.
SEE ALSO:

Cambridge Diet: Slimmer Explains How She Dropped 12 Dress Sizes
A chicken curry and rice meal is now 53% larger than it was in 1993, The Daily Mail reported, and crumpets and garlic bread are nearly 30% larger. A bagel has increased in size by nearly 25%.
As the obesity crisis worsens, fingers are being pointed to identify the factors that may be responsible - the BHF said that oversized food portions were also contributing to heart disease, currently the UK's single biggest killer.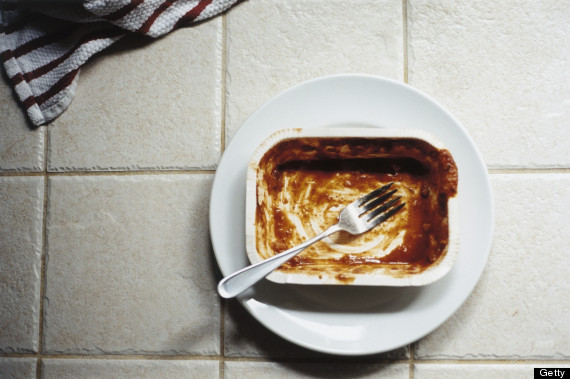 The article, originally printed by The Times, reported chief executive Simon Gillespie from the BHF saying: "We urgently need a government review of portion sizes in the UK," said Simon Gillespie, chief executive of the BHF. We are calling on supermarkets and manufacturers to take their share of responsibility for how much we eat."
Story continues below the slideshow:
The BHF looked at 245 food products sold in major supermarkets Sainsbury's, Tesco, Morrisons and Asda comparing portion sizes with those recorded by the Food Standards Agency in 1993.
The Times went on to say that the findings may jeopardise new food labelling that is rolling out across the country. Confusion around portion sizes, they said, may mean that people still end up more than they should.
However - Britain was warned about this by Sustain, the charity which lobbies for healthier food. Five years ago, The Telegraph reported that average portion sizes had increased over the last 20 years - for instance chocolate mousses had more than doubled in size, while crisp bags had also become bigger.
James Erlichman, writing for The Guardian, said: " the supermarkets and big packaged food manufacturers employ ..."supersizing" tactics – by increasing pack size ("50% extra free!") or by tempting us with BOGOFs – buy-one-get-one-free offers (although both ploys often involve a discreet rise in the pack price before the "free" enticement is promoted, reducing the real bargain but not the extra calories)."
At present, British people are fatter than ever - on average, a person is nearly three stone heavier than a person of the same sex and weight 50 years ago.
Professor Jimmy Bell, obesity specialist at Imperial College, London told the BBC: "It's a war between our bodies and the demands our body makes, and the accessibility that modern society gives us with food. And as a scientist I feel really depressed, because we are losing the war against obesity."