Elephant and gorilla costumes, warpaint and youngsters blacked up as Nelson Mandela sounds like a cringeworthy colonial get-together from the 19th century, rather than a 21st young birthday in 2013.
The young Australian woman, named only as "Olivia", posted up pictures of her "This is Africa" party, with revellers blacked up, adorned in leopard print and thumping their chests. Others seemed a tad confused about where Africa was, and who lives there, with one young man dressed up as a Native American, and another as a member of the Ku Klux Klan.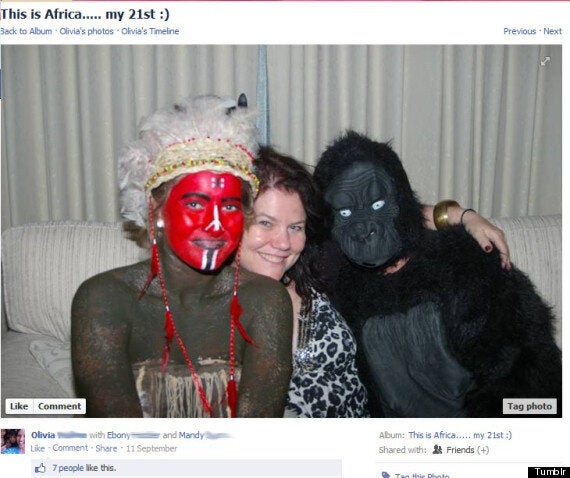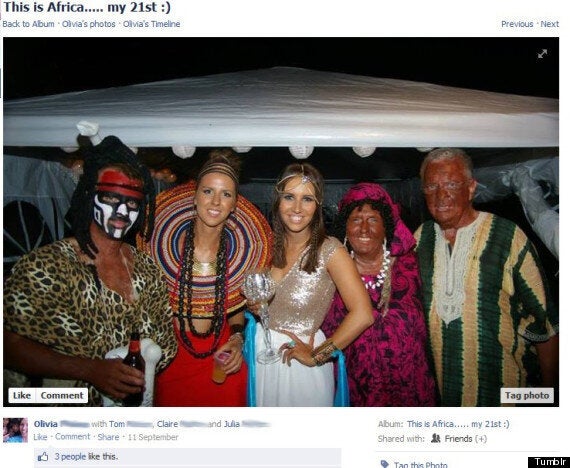 Some Facebook friends posted worrying comments under the pictures
The Tumblr post describes himself as a black American guy, who spent time teaching English in Taiwan.
He posted about the pictures: "Attendees were all asked to wear "African themed" clothing to depict the continent and this is what resulted… blackface, elephant and gorilla costumes, warpaint, native American headdresses (?!) and more…. I'm at a loss for words. And yes, this is from 2013.
"The girl posted the pictures proudly and flatly refused to take them down when confronted by another individual about how they were racist apparently. Pictures were reported to facebook weeks ago and they still have not been taken down. Wow. In case you ever wanted to know how white folks saw us black Africans… here you go."
"In no way was this party intended to hurt anyones feelings or upset anyone at all. In fact as you can tell from the photos I dressed up as cleopatra, whilst MAJORITY of my guests came as animals, that can be found in africa or wore traditional african clothes or even dressed up as famous people who come from Africa."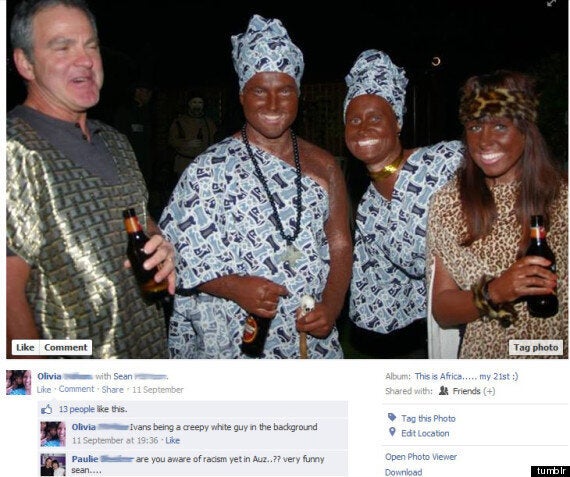 Several of the guests blacked up, which was not encouraged by the birthday girl, she claims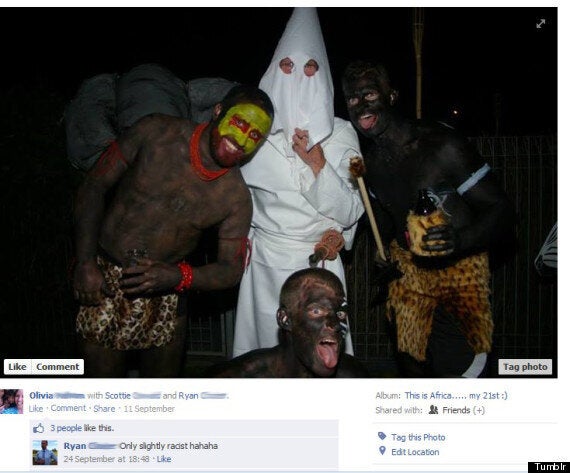 This man came as the African branch of the Ku Klux Klan, apparently
"If anything this was to celebrate the amazing country and people. However, some guest did decide to paint themselves, although this was in no way my intention or encouraged in the slightest. I understand that this has offended some people and I have no idea how these photos have even been seen, they were simply put on Facebook for my guests to see the photos of themselves." (Note to Olivia, Africa's not a country)
The theme, Olivia said, was no more racist than 'Australian themed' or 'American-themed' events.
"People wear oktoberfest cotumes to parties and no one cracks it that they are not German? So what I am saying is I do understand the people who have painted themselves have offended people, although none of them intended that, but how can people be annoyed that the majority of the people at the party were celebrating another countries culture?"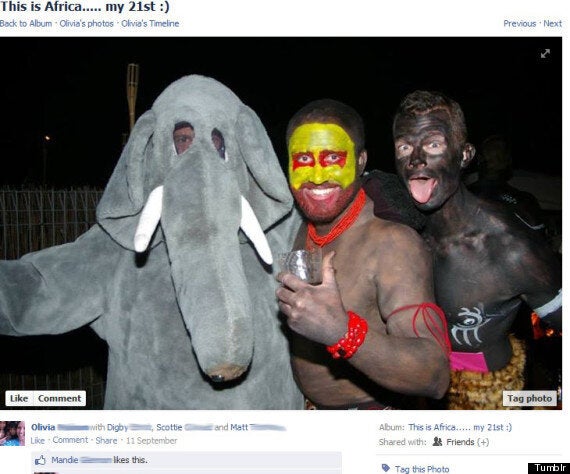 The theme is not racist, according to the birthday girl
She said a Mauritian friend had in fact painted himself white for the party, but she had no pictures of him to upload. And she denied being asked to take the photos down, saying no-one had said they were offended.
"I intend to spend two months teaching english in cambodia in January, and can't wait to do the same in Africa. If you will still have me," she concluded.
"Again I am sorry for those I have offended and the photos have now been removed now that I have eventually been made aware people were upset. For those who know me at all you would know the last thing in the world I would want to do would be to offend people."