Stunned workers at a Scottish energy plant have been told it is to close, with the loss of hundreds of jobs.
The bombshell decision to shut the petrochemical side of the giant Grangemouth site came after a bitter row over workers' terms and conditions.
Around half of the staff at the site rejected a survival plan for the site, which included accepting a pay freeze and changes to pensions and other terms and conditions.
Speaking after the news was broken to staff, one worker, who did not want to be named, told the Press Association: "I feel sick. It's gone.
"There's no livelihoods left and we don't even know if we're going to get redundancy out of it. I hope they're happy with themselves." Workers were devastated at the news
The worker, who appeared close to tears at points, said he could only listen to about 10 minutes of the meeting, before he felt he had to leave.
He went on: "There are folk in there have a husband and wife work here. That's it. Folk will be lucky if they have a house at Christmas."
On the impact of the move on Grangemouth, he said: "It's gubbed (ruined). Everything, burger vans, everything's gone."
Ineos chairman Calum MacLean denied one worker's claim that he had smiled while passing on the grim news.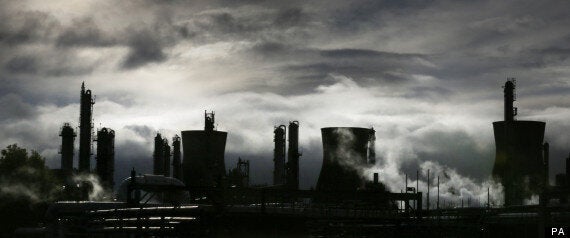 The petrochemical part of Grangemouth will close
The oil refinery at Grangemouth will remain open, but Ineos said a decision to restart production at the site, which has been closed for the past week, will depend on any threat of industrial action.
The news follows the passing of a deadline on a survival plan put to employees which asked them to accept changes to pensions and other terms and conditions.
The Unite union said around 680 of the site's 1,370-strong workforce had rejected the company's proposals, which include a pay freeze for 2014-16, removal of a bonus up to 2016, a reduced shift allowance and ending of the final salary pension scheme.
Energy and Climate Change Secretary Edward Davey said: "I am saddened to hear of Ineos's plans to place the petrochemicals business into administration, particularly because of the impact it will have on the workforce and local community.