The notorious police officer who pepper-sprayed peaceful student protesters from just several feet away has been awarded £25,000.
The now iconic image of John Pike's shocking heavy-handed policing came to symbolise the treatment of Occupy protests worldwide.
He received the significant pay-off for the "trauma" he experienced as a result of his actions.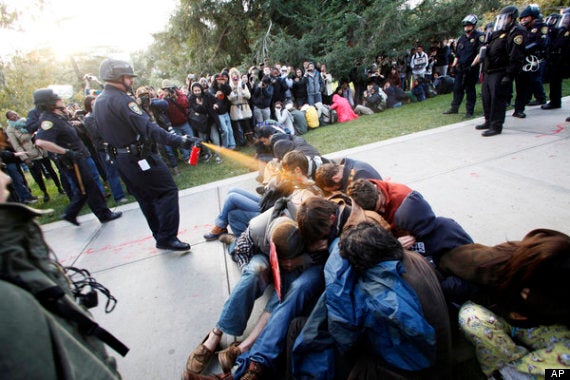 John Pike was fired for pepper-spraying the students
The former UC Davis police officer had filed for the compensation, claiming he suffered depression and anxiety after death threats resulting from the incident.
Local attorney Bernie Goldsmith told the Enterprise newspaper that the settlement "sends a clear message to the next officer nervously facing off with a group of passive, unarmed students: Go on ahead. Brutalise them.
"Trample their rights. You will be well taken care of."
The video of him spraying seated demonstrators in the face while they offered no resistance went viral.
The video made it to news outlets around the globe, and activists aligned with the underground Anonymous movement warned him, "Expect our full wrath."
Pike was fired in July 2012, after being on paid administrative leave for eight months.