More than a quarter of NHS trusts have been identified as high risk and may not be offering safe, good-quality care to patients, a new report shows.
Analysis by the Care Quality Commission (CQC) regulator found 44 trusts with the most serious level of concern, including higher than expected death rates across their hospitals.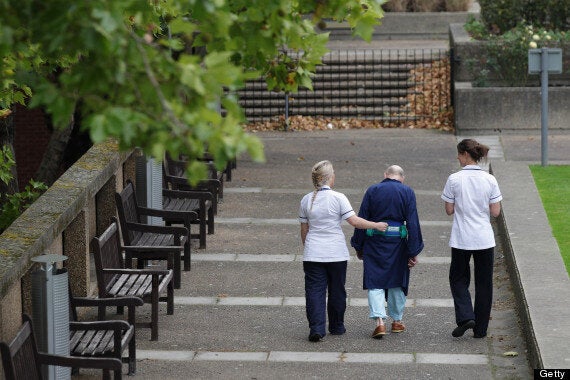 Patient care has come into question in the CQC report
Some trusts were flagged for incidents resulting in harm to patients while others scored low on staff or patient satisfaction.
Several came to attention due to whistleblowing staff while others had a higher than expected death rate among patients who should be low risk.
A total of 161 acute trusts across England were examined by the CQC against more than 150 indicators.
The report will act as a screening tool to identify which trusts need the most rapid CQC inspections and where inspectors need to focus their attention.
All 161 trusts were divided into six bands, with band 1 being the highest risk and band 6 the lowest.
There were 44 trusts in the two bands with the highest risk, with 24 trusts in the highest possible band 1.
They include hospitals already under the spotlight after investigations by NHS medical director Professor Sir Bruce Keogh.
Some of these trusts are already in special measures, including Basildon and Thurrock University Hospitals NHS Foundation Trust , Buckinghamshire Healthcare NHS Trust, Medway NHS Foundation Trust, North Cumbria University Hospitals NHS Trust and Tameside Hospital NHS Foundation Trust.
Alder Hey Children's NHS Foundation Trust in Liverpool has been identified as potentially high risk and sits in band 1. CQC inspectors working under a previous inspection regime said earlier this year the trust was meeting essential NHS standards.
Among five risks identified in the new collection of data, three were regarded as "elevated risks" and related to whistleblowing, the quality of data submitted by the trust and staff concerns over managers.
Leeds Teaching Hospitals NHS Trust, which runs Leeds General Infirmary, also passed essential standards last year and is listed in band 1. Concerns there include whistleblowing, cases of the bug Clostridium difficile and serious concerns over education.
South London Healthcare NHS Trust, which has now been dissolved, scored one of the highest possible risks, according to the data. The three hospitals it ran are now under the care of different trusts.
Some 17 risks were identified there, including seven that were regarded as "elevated". These included whistleblowing concerns from members of staff and the number of patient safety incidents resulting in harm to patients.
High levels of risk were also identified at Croydon Health Services NHS Trust, mostly focused on patient satisfaction.
At North Cumbria, 13 risks were identified, including 10 that were elevated These included "never events" of incidents that should never happen in NHS hospitals, higher than expected death rates and issues over the time patients waited for treatment.
High ratings were also noted at Basildon and Thurrock, and Barking, Havering and Redbridge University Hospitals NHS Trust.
At Basildon, there were 14 risks, including seven elevated risks. These included the number of patient safety incidents that were harmful to patients, higher than expected death rates and potential under-reporting of problems.
At Barking, 13 risks were identified, of which seven were elevated. These included A&E waiting times, inpatient death rates and issues around groin surgery and hip replacements.
The CQC is using the data - called intelligent monitoring - to inform its new inspection regime of all NHS trusts by December 2015.
Following these detailed inspections, trusts will be given Ofsted-style school ratings of "outstanding", "good", "requires improvement" and "inadequate".
The CQC's chief inspector of hospitals, Professor Sir Mike Richards, said: "As a doctor, I liken intelligent monitoring to a screening test; our inspection combined with intelligent monitoring provides the diagnosis, following which we make a judgment, which will in turn lead to action.
"Our intelligent monitoring helps to give us a good picture of risk within trusts, showing us where we need to focus our inspections.
"We aim to publish the results at regular intervals. They will provide the basis for constant contact with NHS hospitals and other NHS organisations, and may lead to inspections in response to particular issues."
Dr Jennifer Dixon, chief executive of the Health Foundation and CQC board member, said: "It makes sense to use the wealth of routinely available data in the NHS to try to spot patterns which might identify or predict poor-quality care for patients.
"The intelligent monitoring tool can never by itself be a crystal ball, but it is a great start and will surely develop over time."
The CQC has said the latest information is not a final judgment, but will be used as a valuable tool to prioritise which trusts to inspect earlier on.
Not all 150 indicators are applicable to every trust.
Trusts have been assessed against the indicators relevant to them and a risk score has been calculated.
Shadow health minister Jamie Reed said: "David Cameron should be ashamed that he's put so many of England's hospitals in this position.
"He siphoned £3 billion out of the NHS front line to blow on a back-office re-organisation nobody voted for.
"Hospitals were left on a financial knife-edge and they are clearly struggling to maintain standards of patient care after more than three years of chaos.
"Almost 6,000 nursing jobs have been axed since the election and David Cameron presided over the first summer A&E crisis in living memory.
"The NHS is on the brink of a very dangerous winter. David Cameron cannot continue to ignore the warnings.
"This is further proof that you can't trust the Tories with the NHS."