 Roy Keane became a "nightmare". Owen Hargreaves "had no confidence in himself whatsoever". Steven Gerrard wasn't a "top, top player". Sir Alex Ferguson seems to have it in for midfielders cut from the same rugged cloth in his autobiography, yet the irony is his critique advertises a major shortcoming during his later years with Manchester United.
Ferguson, extraordinarily, did not sign a central midfielder during his last six years at the club. He spent £200 million signing players for literally every other position except United's soft centre. Hargreaves was the last of his kind to join Ferguson's United and it was took Marouane Fellaini, at £4.5 million more than it was necessary, to cure the blind spot.
It was telling David Moyes brought in a player who shares similar qualities to the aforementioned three. Although he may never reach the level of them, Fellaini is a physical presence United have lacked for the best part of a decade but they remain desperately short of silk and steel in midfield.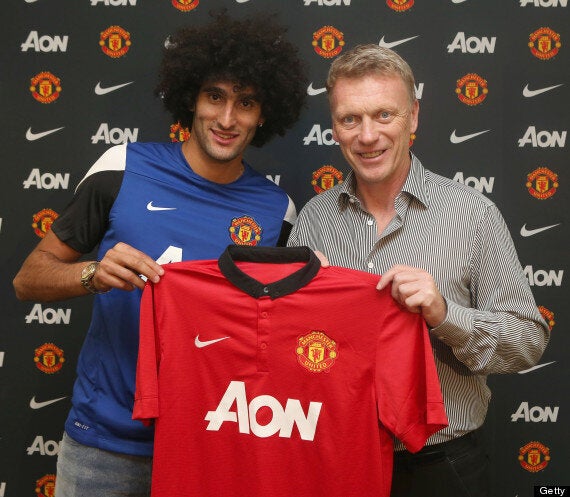 The wait is over: Fellaini was the first central midfielder United bought in six years
A mystery more labyrinthine than a Raymond Chandler novel, Ferguson's occasionally harsh summaries of Keane, Hargreaves and Gerrard offer an explanation as to why the midfield became such a conundrum. Dizzy from Barcelona's "passing carousel" in the 2009 Champions League final, Ferguson focussed on treasuring the ball and mistakenly became over-reliant on an ageing Paul Scholes.
Ferguson admits Scholes rarely lasted the final 25-30 minutes of games due to his age. He also says that, from 2009, Michael Carrick and Darren Fletcher became his "new first-choice pairing". However good those two players are (or in Fletcher's case, sadly, were), for a club of such stratospheric standards as United, it was not good enough.
This was highlighted by United and Barça's second Champions League final meeting in 2011. Again, Barcelona won by two goals and it was an easier match than in Rome two years previously. Ferguson hadn't learned his lesson and, perhaps due to his age, was sentimental about the virtues of Scholes and Ryan Giggs, who he had converted into a central midfielder.
Whereas Hargreaves is compared to Kléberson, the unprofessional Anderson is lauded as a "lovely boy". He might be that, yet few players have won four titles with United and contributed so little. Anderson wanted to be loaned to Vasco da Gama in January 2010 and, aside from a few purple patches, has emerged as a major scapegoat among supporters. His admission in pre-season he was finally starting to "eat properly" was as popular as his presence in the starting XI.
Ferguson is disingenuous about Hargreaves. Financially, United were probably unwise to sign a player beset by knee injuries, let alone offer him a four-year contract, but he was superb in United's 200708 Champions League winning-campaign.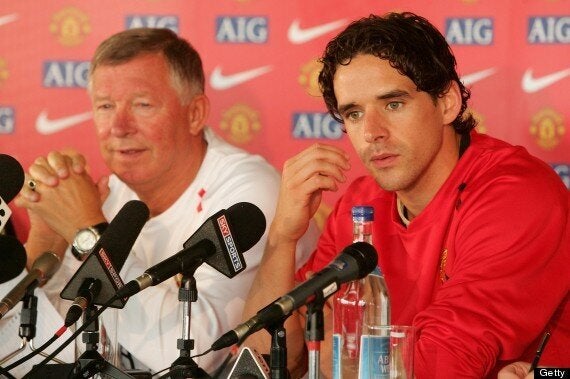 "I don't fancy this": Ferguson was unsure about signing Hargreaves
The Scot is correct that Keane's erratic "behaviour patterns" stemmed from realising "he was no longer the Roy Keane of old. I think he could see the truth of what we were saying to him, but to surrender to it was too threatening to his pride. He thought he was Peter Pan." United's approach changed, post-Keane. Carrick was brought in, though he was only a replacement in so much as he received Keane's No.16 shirt. He's won five titles in seven seasons at United, which is testament to Ferguson's genius.
Although Gerrard is perhaps championed to a sacrilegious level on Merseyside he is a player United have been crying out for. Ferguson told Hugh McIlvanney in 2004 the Liverpool midfielder was Keane's "natural successor". Five years on, he told the same journalist Frank Lampard was "incredible", and this year admitted he regretted not signing an "unbelievable" player.
Lampard still offers Chelsea something few United midfielders do - goals - and Gerrard, while far too wasteful with the ball over the last 18 months, remains an aggressive leader. It is not coincidental United, bereft of graft, won once at Anfield in Ferguson's last six visits.
Ferguson hinted at a shift in the landscape only last year, when he claimed he had never played with a holding midfielder.
"I don't think we've had a holding player since I've been here. We've never had a holding player," he said. "We tried to get Roy Keane to do that but he just couldn't do it. He had to play a way that was his own way of playing, so I've not had it for 25 years. Why should I think about it now?"
The goal posts had changed. Even though Paul Ince, Keane, Nicky Butt, Ronny Johnsen, Hargreaves, Ji-Sung Park and Darren Fletcher had occupied that role for Ferguson, who had become obsessed with ball retention.
Only he never bought the players good enough to challenge the great Barça.
Popular in the Community