A 14-year-old boy is feared dead after being swept into the sea while playing in the surf in rough weather conditions.
Police said the missing teenager got into difficulty at about 4.15pm while swimming with friends near the shore at West Beach, Newhaven.
A Sussex Police spokesman said: "This is a very distressing incident and everything possible is being done to try to find the boy.
Story continues after the slideshow...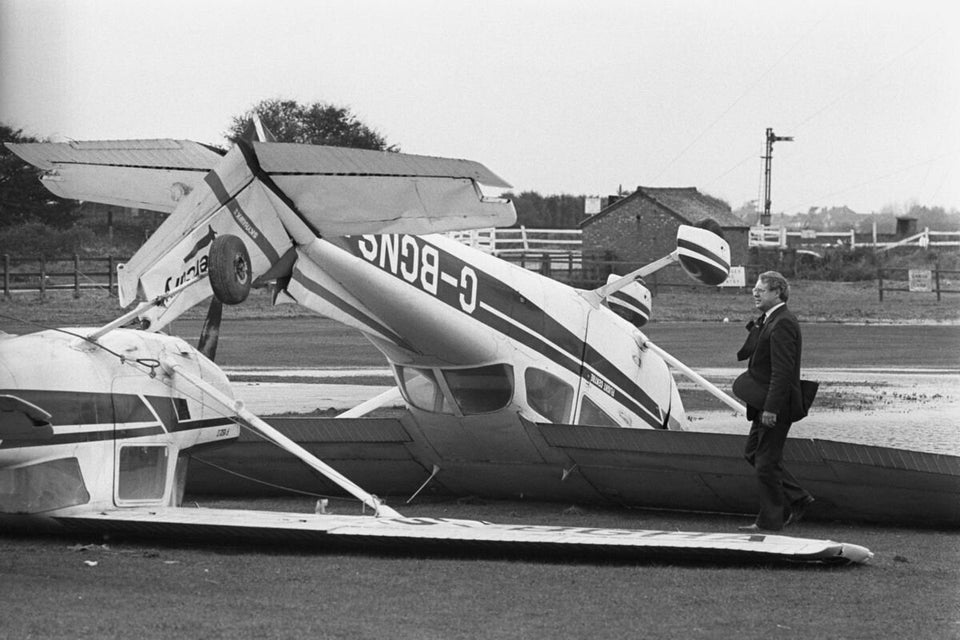 UK Storms, then and now...
"Meanwhile, all agencies remind people of the dangers of being at seashores in adverse weather, especially in view of the approaching severe weather conditions overnight. The advice is straightforward - stay clear."
A search is under way involving the coastguard and police.
The high winds caused an 89ft wind turbine to blow over in a field at Higher Rixdale Farm at Luton, near Teignmouth, Devon.
It also saw firefighters dismantle a smaller turbine from the roof of a house in Ilfracombe which was in "in a precarious position".
Meanwhile, in nearby Cornwall, a family-of-four escaped unhurt after a tree hit their house.
Two children and their parents were sleeping when the tree crashed through the roof of their house in Camborne at about 1am on Sunday.
Insurance companies have advised households to take steps to protect themselves and their property.
Direct Line said people should establish evacuation plans, place valuable items upstairs to limit flood damage and ensure gutters are clear so water can drain away.
It will travel over the Atlantic and is expected to hit the South West late tonight before moving north-eastwards across England and southern Wales.
Heavy rain will accompany it, with strong winds in the early hours of tomorrow, but the storm is expected to move out over the North Sea by late morning, leaving strong breezes in its wake.
The Met Office described the storm as not one "you would see every year" and said the expected wind strengths would be similar to storms in March 2008, January 2007 and October 2000.
Gusts of 115mph were recorded during the Great Storm of 1987, when 18 people died and thousands of homes were without power for several days.
The Met Office has issued an amber warning, meaning ''be prepared'', for the southern half of England and the southern half of Wales.
It gave a lesser yellow warning, meaning ''be aware'', for the rest of Wales and England up to the border with Scotland.
Frank Saunders, chief forecaster at the Met Office, said: "We are confident that a severe storm will affect Britain on Sunday night and Monday.
"We are now looking at refining the details about which areas will see the strongest winds and the heaviest rain.
"This is a developing situation and we'd advise people to stay up to date with our forecasts and warnings over the weekend, and be prepared to change their plans if necessary.
"We'll continue to work closely with authorities and emergency services to ensure they are aware of the expected conditions."
Atlantic storms of this type usually develop further west across the ocean, losing strength by the time they reach the UK and Ireland.
But this is expected to appear much closer to land, potentially moving across the country while in its most powerful phase.
A strong jet stream and warm air close to the UK are contributing to its development and strength.
Chris Burton, a forecaster with MeteoGroup, the weather division of the Press Association, said: "We are going to see some heavy and persistent rain heading north across England and Wales overnight from early this evening, from the South West.
"As the rain pushes north the winds will pick up, and by midnight there should be gusts of about 60mph across south-west England.
"Through the early hours much of southern England will see winds of 60-80mph, maybe closer to 90mph in exposed areas on the south coast.
"Further north, in south Wales, the Midlands and East Anglia these will be between 50mph and 70mph.
"The storm is going to move through very quickly, and as we go into Monday morning the winds will ease off from the South West, and by lunchtime most areas will start to see the winds ease off and die down.
"Rains will also clear through to the east through the morning, leaving a few showers in the afternoon."
The Prime Minister chaired a conference call with various Government departments and agencies this morning on plans to protect people from the storm.
Transport ministers, the Department for Communities and Local Government and the Cabinet Office updated Mr Cameron on preparations and contingency plans for transport, local authorities, schools, health and power supplies.
He was told that the storm could have a widespread impact but plans were in place to respond.
The Environment Agency has teams working to minimise river flood risk, clearing debris from streams and unblocking culverts, and closely monitoring water levels so they are ready to issue flood warnings if necessary.
Martin Hobbs, head of asset resilience at the Highways Agency, said: "Be aware of sudden gusts of wind and give high-sided vehicles, caravans, motorbikes and bicycles plenty of space."
The Local Government Association (LGA) said local authorities would divert staff from their normal duties to help out with emergency relief efforts if required.
They have found emergency accommodation should families be evacuated from their homes and highways teams are on stand-by to rescue stranded motorists and clear debris from roads.
Network Rail warned there is likely to be disruption to trains from fallen trees and localised flooding tomorrow if the forecasts prove to be accurate.
Passengers are advised to visit www.nationalrail.co.uk for the latest information.
Home insurers were bracing themselves for the prospect of a high number of storm damage claims.
Rob Townend, claims director at Aviva, said: "We have drafted in extra staff into our contact centres so we are poised and ready to help all those who might need us if the worst happens."
Rescue services, including a helicopter, are searching for the boy who is missing after being last seen playing in the surf in rough seas.
The youngster was in the water at West Beach approximately 10 metres offshore, the Maritime and Coastguard Agency said.
Solent Coastguard was alerted to the missing boy via 999 calls. It is not known at what time the calls were made.
A spokeswoman said: "Coastguard rescue teams from Newhaven and Burling Gap are searching the area.
"Solent Coastguard requested the Newhaven RNLI lifeboat to the scene, a Coastguard rescue helicopter is also searching for the boy.
"The search conditions on scene are very difficult for the rescue teams involved, with rough seas and poor visibility."
Solent Coastguard watch manager Steve Mann said: "This weekend we have been expecting hurricane-force winds and we are urging people to take extra care.
"The crashing waves are spectacular to watch but also extremely dangerous. HM Coastguard's advice is simple: don't take risks.
"But if you do get into difficulty, or spot someone who might be in trouble, call 999 and ask for the Coastguard."
Popular in the Community