From the impenetrable bond of Sex & The City's Carrie and co to the bitching, bullying and backstabbing of the real-life 'mean girls' of 'Made In Chelsea', the polarised views of female friendship we're served up on screen suggest that women are either soul mates or savages when it comes to their girlfriends.
When 'SATC' sashayed onto our screens in the 90s, it was groundbreaking because it placed the importance of female friendship above that of romantic love, a welcome change from the chick-lit and rom-coms that had gone before it.
But its glamorised ideal of women in designer frocks, quaffing cosmopolitans and bearing their souls in uptown cocktail bars was escapism, not a reflection of what life is really like for the rest of us. And its female empowerment message might have got us fired up had the fabulous four talked about anything other than men (and shoes).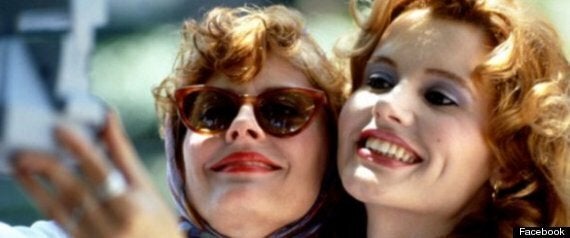 Thelma and Louise, the ultimate BFFs?
"My female friendships, many of which are long-standing and intimate, don't come close to the soul union shared by these ladies.

"They are separated by interests, personalities, geography, bouts of depression, and unadaptable partners. I have never figured out a way to turn them all into an inspired motley crew à la 'Sex and the City'."
But at least 'SATC' revealed something of the intensity of close female friendships. Today's raft of 'structured' reality TV shows has taken a giant step backwards - in particular, 'Made In Chelsea', which has all of the money and glamour of 'SATC' and none of its warmth, compassion and female solidarity.
Thank goodness for Lena Dunham. The brains behind hit US series 'Girls', has delivered us a refreshing reminder of not only the subtleties, complexities and nuances that underpin real female friendships but also our innate need for same-sex closeness.
"'Girls' is very much a love letter to/group therapy session about female friendship," Dunham wrote in 'The L Magazine' in April 2012.
The show's second series did come under fire for a heavier reliance on relationships with men but Dunham points out, in an interview with Refinery 29, that this was a deliberate move to contrast the complex and contradictory nature of female friendship against a more reductive view of romantic relationships:
"I think these girls are more tortured by their relationships with each other, specifically Marnie and Hannah, then they are with their relationships to men," she said. "Men are, in some ways, simple, while their ability to get on the same page with each other, at the same time, is more of a challenge."
But while Dunham emphasises the challenges and conflicts attached to female friendship she also demonstrates an acute understanding of its beauty in this delightful short film (above) made with her real-life best friend, Rachel Antonoff.
And if that doesn't make you want to text your BFF to arrange a meet-up right now, read our seven top reasons you owe your best friend a big thank you.