Nearly eight years have passed since José Mourinho labelled Arsène Wenger a "voyeur" who "loves Chelsea". Just like with Manuel Pellegrini on Sunday, Mourinho did not shake hands after the whistle sounded on Chelsea's final fixture at Highbury in December 2005. On that occasion, it was Mourinho who skulked off, victorious following a 2-0 win.
He was unhappy Arsenal had queried whether a Christmas card he had sent Wenger was genuinely signed by him. One of the more surreal reasons behind a spat, it was petty of Wenger although it was hardly a fall-out, considering the chalk-and-cheese dynamic.
Wenger and Mourinho were destined to clash when the latter moved to England in 2004. The Portuguese had already faced Sir Alex Ferguson with his Porto team earlier that year and was overwhelmed by the Scot's class in defeat. Even though Ferguson had angrily confronted him after the first leg of the last 16 tie, Mourinho was in awe of one of the game's godfather figures. Wenger offers Mourinho his opinion at the 2007 League Cup final
Mourinho was overly complimentary about Manchester United following Chelsea's defeat of them in his first match in charge. Months later, Ferguson publicly mocked his counterpart about a bottle of wine the pair struggled through after the first leg of a goalless League Cup semi-final. And, most tellingly, Mourinho said he wanted United to win that year's FA Cup final with Arsenal.
Ferguson was the sheriff and Mourinho was the new gunslinger in town. He was hardly a deputy but they shared that mentor-protégé camaraderie. Both were charismatic in their own inimitable ways whereas Wenger once cut short a birthday meal with his wife because he wanted to get home to watch Match of the Day.
Wenger was also a rival to Mourinho whereas Ferguson was not in the Portuguese's first two seasons in England. It was Arsenal's Invincibles Chelsea dislodged to win their first title since 1955 and Mourinho was not going to curry favour with a manager he was determined to defeat.
His relationship with Ferguson chilled when United emerged as title contenders in 2006-07, as Mourinho dismissed Cristiano Ronaldo's background and education, which prompted a subtle putdown from the seasoned sheriff. "I don't know what's wrong with the lad," Ferguson shrugged. "Lad" was a reminder to Mourinho that two successive titles could hardly be regarded as a dynasty, and it got so bad Ferguson aired his dismay at Mourinho belittling Liverpool and Rafael Benítez.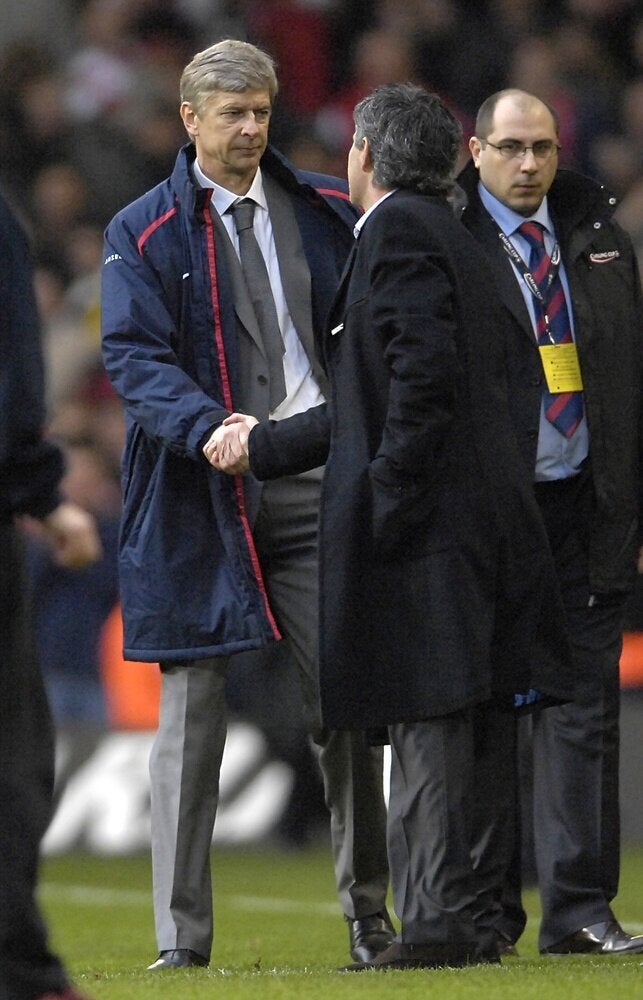 Mourinho and Wenger
Mourinho rode off to a new town to conquer shortly after and was only able to renew rivalries with Ferguson in the Champions League, when on both occasions he was auditioning to replace him. MUTV were invited out to Milan ahead of the 2009 round-of-16 tie with Internazionale and he had a sit down with their blinkered pundit Paddy Crerand before this year's memorable matches with Real Madrid.
Ironically, it is a player who Mourinho bought who could write a second chapter in his rivalry with Wenger. Only Mesut Özil plays for Arsenal now.
Related