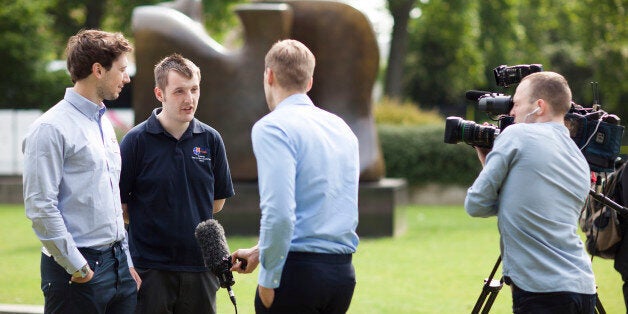 Apprenticeship / training: Apprenticeship / training: Higher Apprenticeship (Following completion of Intermediate and Advanced Apprenticeship levels in IT). Currently studying for UCLAN Foundation Degree Computing
What's a typical day like for you?
There is not really a typical day! I start at 8.30am and it is non-stop all day. I am the first point of call for the IT Helpdesk where any of the 850 staff from our site in the UK (where I work), to our regional offices around the world, could ring in with a query. I solve problems over the phone and in person and in addition work on a range of projects.
What has been the most memorable day of your apprenticeship so far?
The most memorable day so far has been winning the Brathay Apprentice Challenge (#BAC13), which brought to a head a lot of work. It was great to do as very different to the day job and it really took you out of your comfort zone. At the same time we raised a lot of money for charity and gained new skills.
In the regional heats we beat over 90 other organisations by completing a community project to renovate sites for charity, Chrysalis, and conducted school visits to talk about how doing an Apprenticeship means young people can earn while they learn in a real job gaining a real qualification and a real future.
Then in the finals we raised £6,000 for charity and then completed a series of physical and mental team building challenges to finally win the Brathay Apprentice Challenge, apprentice team of the year.
The challenge has just launched for businesses to sign up to try to beat our title and I'd encourage any organisation with apprentices in their business to sign up and reap the rewards of putting their apprentices to the test.
Why did you decide to become an apprentice?
I liked the idea of working and learning at the same time on the job instead of being stuck behind a desk at school for two more years. The idea of being in a workplace really appealed to me. So I chose to leave school at 16 and start on an Intermediate Apprenticeship.
What are the best things about being an apprentice?
Being able to earn and learn. There are no university fees or debts mounting up. Some of my peers, who stayed on at school, are now at university with debts racking up and no guaranteed job at the end of it all.
What are the best things about working in the industry you work in?
IT is a fast moving industry that never stands still. You have to continuously learn about new systems, applications, software and how the latest gadgets operate. In ten years' time I am sure how we work will have evolved and be different to how it is today.
What's the most surprising thing you've learnt during your apprenticeship?
The most surprising thing about doing an Apprenticeship is how quickly you grow and develop as a person. Many of the skills I could have learned at college or university are quickly developed in the workplace.
What would you say to someone thinking about applying for an apprenticeship?
I would recommend an Apprenticeship to anyone. It does not matter what level you are at. If you put the work in, then it can work for you.
What do you think are the biggest myths about apprenticeships?
Apprenticeships used to be thought of as the second choice option, only for those who were not good enough to go to university. This view is starting to change and Apprenticeships are for everyone if you are willing to put the work in. You are getting a wage, on the job experience, can gain vocational qualifications and potentially could take it to degree level in your chosen field.
What do you expect to be doing in 10 years time?
In ten years' time I expect to be a fully qualified IT Engineer and to be using the knowledge learnt through a degree in the workplace.
Why an apprenticeship rather than university?
Yes I am very happy. I made the decision at 16 to follow the Apprenticeship route as opposed to A Levels followed immediately by going to university. I have never regretted this.
What advice would you give someone leaving school or college now?
I would say to look at all the options that could be available to you. This includes Apprenticeships as well as A-Levels and a place at university. You will be pleasantly surprised by what an Apprenticeship can offer.
How did you get involved with the Brathay Challenge 2013?
My manager nominated me as he said it would greatly benefit me and he has been proven right.
What was it like to be on the winning team?
It was a great feeling. It brought the team closer together as colleagues. It is good to take people out of their normal working environment and test them beyond their comfort zone.
What did you have to do to win the challenge?
1. Profile-raising of Apprenticeships
We visited local schools to talk about Apprenticeships, attended careers events, set up stalls at shopping centres to talk to the public, secured coverage in the local press via interviews in publications, online, on Radio and TV, gained support from our local MP via a blog post, maintained a social media presence throughout the challenge on Facebook and Twitter
In the regional heat we helped a local charity in Wigton - Chrysalis Cumbria (provider of support services to adults with learning disabilities) - with repair and maintenance of their grounds and buildings and we also fundraised via a chilli cook off and raffle. For the national final we chose three charities connected to Cumbria – Brathay Trust, Calvert Trust, Freeman Hospital Cardiothoraccic Unit in Newcastle. We sourced prizes in person, over the phone and via email. We also held a raffle, ran a charity auction and a race night event, raising a total of £6,000.
3. Team building adventure challenge at the Brathay Trust
What has the challenge given you since winning?
The challenge has helped me gain more confidence. An apprenticeship does that for anybody, but BAC helped to accelerate this and has made both the apprentices involved and their managers realise what they can achieve. It has also given me the confidence to approach work in a slightly different way and to challenge myself in what I can achieve.
It was great to meet the Business Secretary, Vince Cable and to be welcomed as VIPs and shown around the Houses of Parliament as part of winning the challenge. I really enjoyed being involved in the charity side of the challenge. Not only did we raise vital funds, but also helped our local community.
Related