Google has finally unveiled the Nexus 5 smartphone running the latest version of Android 4.4 KitKat.
The heavily-leaked device was made official after months of speculation.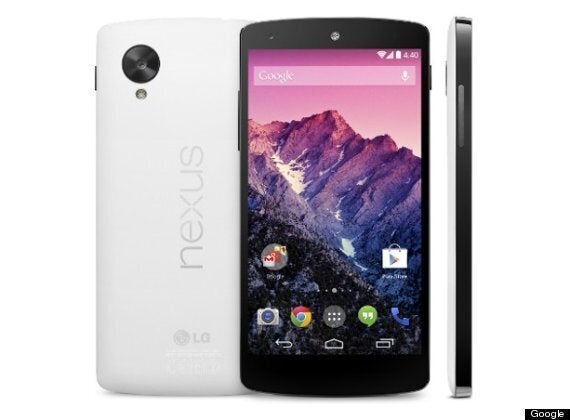 Full-HD five-inch screen (445 ppi)
2.3Ghz quad-core Qualcomm Snapdragon 800
2GB RAM
Black or white design
8-megapixel rear-facing camera
32/16GB of internal storage
Android 4.4 - with new messaging features, and SMS integration
The phone is clearly aimed towards the top end of Android devices, but many buyers are likely to be attracted by the relatively low cost and stock Android 4.4 KitKat software.
In a statement Google said that the latest version of Android was aimed at bringing the "next billion users" on board - focusing on low-end performance - but added that the Nexus 5 was still intended as a premium device.
"Along with our sweet naming tradition, we also introduce a new device with each platform release to showcase the latest Android innovations. For KitKat, we partnered with LG to develop Nexus 5 -- the slimmest and fastest Nexus phone ever made. Its design is simple and refined to showcase the 5" Full HD display. Nexus 5 also keeps you connected at blazing speeds with 4G/LTE and ultra fast wifi.

The advanced new lens on Nexus 5 captures more light for brighter night and sharper action shots. And with optical image stabilization, you no longer have to worry about shaky hands and blurry pictures. A new HDR+ mode automatically snaps a rapid burst of photos and combines them to give you the best possible single shot. Learn more on our site."
Reaction to the phone has been positive - but relatively unexcited, given the level of knowledge that was already widely held before its release.
"In our hands-on with the device, we were incredibly impressed with the clarity and sharpness of the 1080p display. The edge-to-edge glass certainly gives the Nexus 5 an unquestionably premium feel, even with the sliver of bezel adorning the top and bottom. "
If you want one we suggest you move quickly - last year's LG-made Nexus 4 was notoriously hard to get hold of when it was released.
Related