Even some non-Tottenham fans love Sandro. So pity the poor Brazilian for having the bejesus frightened out of him by teammate Kyle Walker.
Sandro is just one of several teammates lured into a dark room where they are asked to reveal their favourite horror film. Little do they know, Walker is lurking with a skull mask.
"I think it's gonna be decent, a bit of banter. I'm usually at the front line of the banter," Walker says, via the modern players' lexicon guide.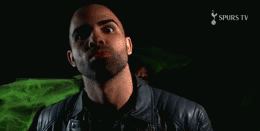 Walker goes on to scare Andros Townsend - who doesn't watch scary films - Jermain Defoe, Emmanuel Adebayor, Heurelho Gomes, Jan Vertonghen and coach Steffen Freund.
Popular in the Community