A British-based Muslim leader has been sentenced to death in Bangladesh for war crimes.
Chowdhury Mueen Uddin helped set up the Muslim Council of Britain, was the director of Muslim Spiritual Care in the NHS as well as a number of other charitable and community roles.
But now he has been sentenced to hanging in his native Bangladesh.
Mueen Uddin was sentenced in his absence at a special war crimes tribunal after refusing to return to Bangladesh to face trial, the Associated Press reported.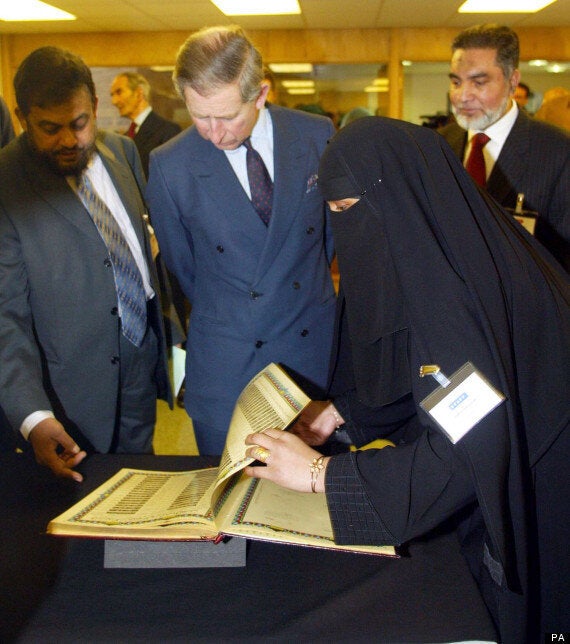 Chowdhury Mueen-Uddin (left) with Prince Charles in 2003
He was found guilty of abducting and murdering 18 people including nine university teachers, six journalists and three physicians in December 1971, during the country's fight for independence against Pakistan.
The court also convicted Ashrafuzzaman Khan, who is currently in New York.
Bangladesh says Pakistani soldiers and local collaborators killed 3 million people and raped 200,000 women during the war.
The Home Office was unable to confirm if an extradition request had been made for Uddin.
A spokesman said: "As a matter of long standing policy and practice the UK will neither confirm nor deny whether an extradition request has been made or received until such time as a person is arrested in relation to that request."
Uddin did not want to comment on the sentencing today. When contacted on his mobile telephone, he hung up after saying: "I'm not taking any calls."
Uddin and Khan were members of Islamic party Jamaat-e-Islami during the 1971 war.
The party is allied with the main opposition Bangladesh Nationalist Party headed by former prime minister Khaleda Zia, a rival of current prime minister Sheikh Hasina.
Sheikh Hasina formed a special tribunal in 2010 to try war crimes suspects.
According to the Chowdhury Mueen Uddin website, which describes itself as Uddin's official site, he was director of Muslim spiritual care provision in the NHS and has also been chairman of the multi-faith group for healthcare
He helped set up the Muslim Council of Britain and is former deputy director of the Islamic Foundation.
His other involvements include having been the chairman of Muslim Aid and vice chairman of the East London Mosque and London Muslim Centre, and he has also served on the board of housing associations, according to the website.
It says he is married and lives in London, having begun his career as a journalist in Bangladesh after studying at the University of Dhaka.
Related