Amanda De Cadenet has revealed that she had trouble recruiting British guests for her hit TV chat show 'The Conversation' and she's pointing the finger of blame in one direction.
"Celebrities in the UK are way more guarded because of how vitriolic the UK tabloid journalists are," she says openly on a whistle-stop visit to London.
"The reluctance of some of the UK women wasn't about talking openly about subjects on my show, it was knowing that the UK tabloid press will take what they've said, twist it, manipulate it and misrepresent the context in which it was said."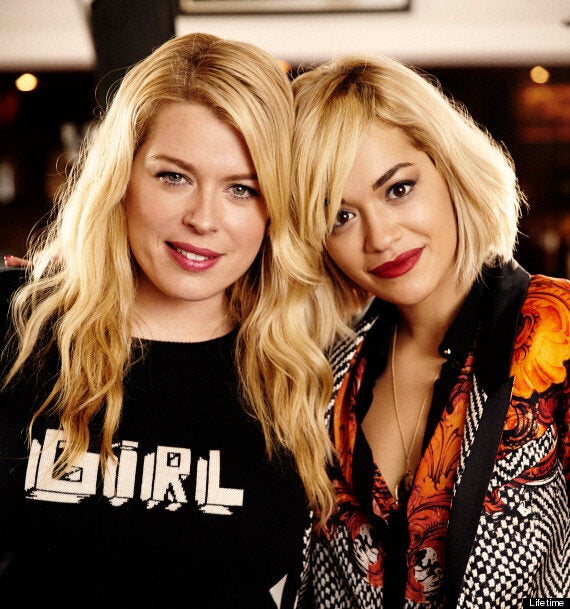 Amanda De Cadenet with British guest Rita Ora
De Cadenet - former TV presenter, rockstar wife and this country's partygoer-in-chief if you believe the redtops, all while still in her teens - may have departed these shores two decades ago and completely reinvented herself in the US as a photographer and now Conversationalist, but it's clear that her contempt for the British press which used to hang on her every antic has endured.
Fortunately, she found three interesting Brits who said, in her words, "f*** it" and put themselves on her couch - singer Rita Ora, model Rosie Huntington-Whitley and journalist Caitlin Moran, and the results are impressive.
"I wanted to speak to Rosie about how people treat her, just because she's beautiful," muses De Cadenet, who's been on the receiving end of the same looks-centric approach in her time.
"The judgement, the meanness you get. That's one of the things we talked about.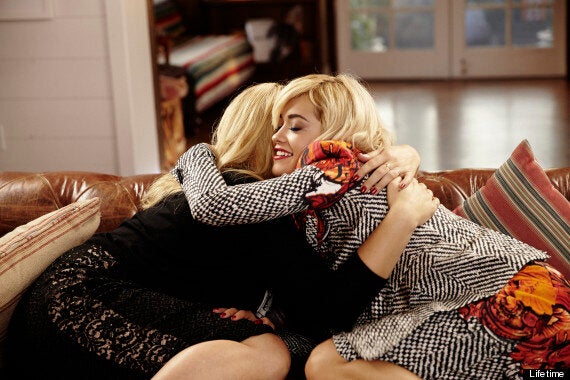 Bonding time for Amanda De Cadenet and Rita Ora
"And Rita is a refugee from Kosovo, so what she's done with her life is incredible.
"Each of those women is a phenomenal role model to me, and a reminder of how much each person can be. I look at every young woman, and I see their potential."
It's clear that De Cadenet is realising her own, fuelled, she explains, by the desire to "have a fulfilling life. The saddest thing for me ever is to meet people who say I never got to explore my dreams, who I am and what I care about. That makes me feel really sad.
"So, for me, having such a young career that created an identity and persona that wasn't me, I'm very committed to authenticity.
"It's just much easier in life, you don't have to remember this other person that you've created, you're just you."
Obviously, these days, these young female identities that she abhors are attached to purely sexual currency, but De Cadenet, perhaps mindful of how she was manipulated as a teenage girl, is quick to speak up for Miley Cyrus and co...
"If you take any woman who is just using sexuality as her currency, and you sit down with her, you can bet she's got more to her than that. I don't have a problem with sexuality, I have a problem with only representing that.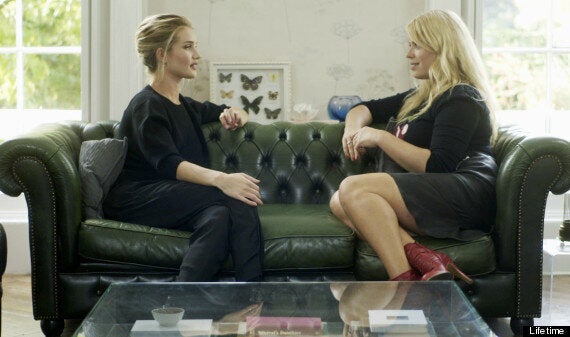 "I wanted to talk to Rosie about how people treat her because she's beautiful"
"Young girls are encouraged and applauded for sexualising themselves, but they're also shamed for it, so they really can't win. I think that regarding Miley, I would just like to point out... why is the 40 year old man who she shared the stage with at the MTV Awards, why is he not being pilloried for his behaviour, while she is being slammed?
"He was fine with it, but she's the one taking the hit. She's incredibly talented, if you separate the acting out she's doing right now, she writes all her own songs, she's a phenomenal performer and extremely skilled, and stop blaming her for being a teenage girl who has been suppressed and controlled her entire life. Her choices right now are directly in proportion to how much she's been controlled. It's not a mistake. She's smart and intuitive, and she's not the f***up people would like to think."
As for De Cadenet's own transformation, it didn't happen overnight. "It took a long time to get rid of it, but becoming a mother helped me find my purpose, that there was more to me and my body than just this media image," she explains.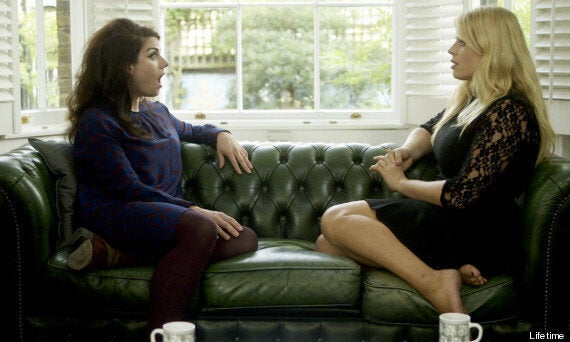 Caitlin Moran with Amanda De Cadenet
De Cadenet's dream guest remains Hillary Clinton - "I'm really curious about how she's maintained a long-term marriage with scrutiny and adversity, and what her balancing act of mother-wife-career woman looks like."
Of the many women, from Gwyneth Paltrow, Eva Longoria, Lady Gaga who've shared her sofa thus far, her biggest inspiration remains Jane Fonda.
"Every woman says something surprising," she reflects. "But we don't generally hear from women in their 70s, we tend to dispose of women once they hit 40, and Jane is one of the most iconic, smart pioneers that exists. If I grow up to be like Jane, I'll be happy."
'The Conversation with Amanda de Cadenet', 4 November at 8pm on Lifetime (Sky 156 Virgin 242)