Hey Morgan has pulled a Preston from The Ordinary Boy after storming off 'Never Mind The Buzzcocks'.
The Fun Lovin' Criminals singer fell out with guest hosts Rizzle Kicks during the filming of the music panel show, and smashed a mug in a rage, before walking off set.
Huey was angered by the 'Mama Do The Hump' singers when they used Fun Lovin' Criminals lyrics in the regular 'Next Lines' round of the competition.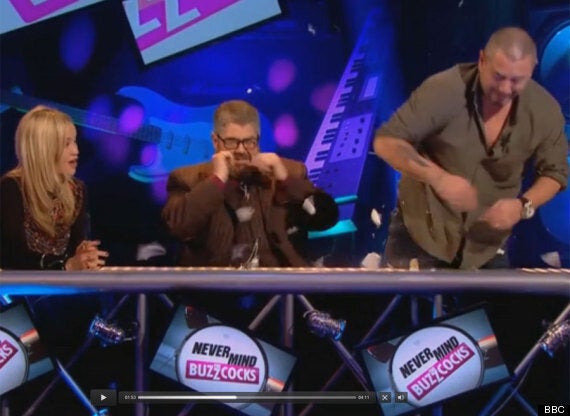 Huey smashes a mug during the show
Sensing he was unhappy with the game, the Rizzle Kicks asked him: "Are you alright with that?"
Huey replied: "I'm totally alright with that, I just thought you guys might do something different for a change."
"It's part of the game Huey... It's next lines mate," Rizzle Kicks replied.
Huey then nearly injured fellow panellists Phill Jupitus and Laura Whitmore by throwing his mug at the desk.
As the show went on, Rizzle Kicks and opposing team captain Noel Fielding continued to mock Huey over his reaction, prompting him to walk off.
WATCH the video above to see the incident unfold.