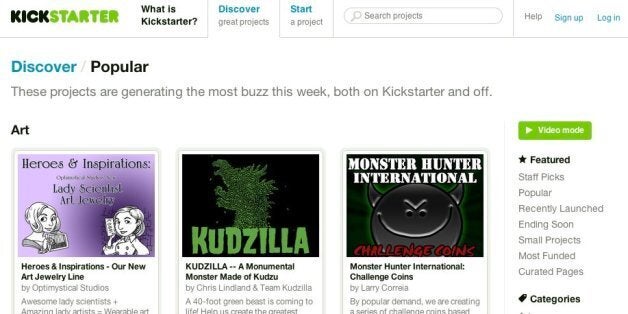 More than £22 million has been pledged to hundreds of different projects including films, computer games and albums on the internet funding platform Kickstarter since it launched in the UK a year ago.
The website runs on an all-or-nothing basis with projects given deadlines to raise certain amounts. If a project succeeds in reaching its funding goal, all backers' credit cards are charged when the time expires, but if it falls short no one is charged.
More than 1,500 projects have hit their funding targets, with £17 million handed over since the UK version of the site started on October 31 last year.
David Wardrop, a 28-year-old parks worker from Glasgow, has personally backed 276 projects - the most in the UK - and reckons he has handed over hundreds of pounds to people including three first-time novelists, musicians and film-makers.
He said: "It is the diversity of the projects that I like, there is such a wide range, and it is nice to be part of something".
Wardrop, who visits the site most weeks, said his favourite project among the hundreds he has supported was a wind-powered land-mine detonator.
He was one of more than 4,000 people who ended up giving more than £100,000 to develop the idea.
He said: "To support something that could save lives is amazing."
The most successful UK project is Elite: Dangerous - an attempt to develop an updated version of a popular computer game from the 1980s - with £1.6 million raised.
Peter Lord, the co-founder of Aardman Animations studio, launched a campaign on the site last week to raise £75,000 to make a new 12-episode online series of animated character Morph.
More than £55,000 was pledged by more than 1,000 backers within days.