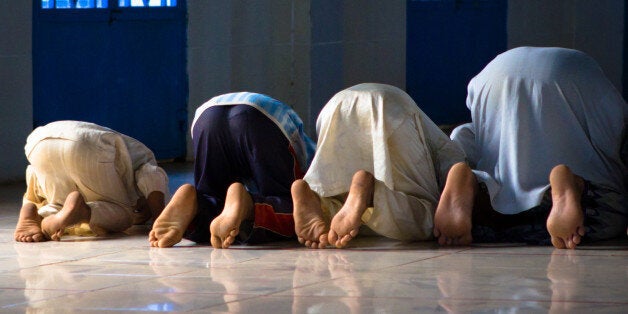 Hundreds of Muslim students congregated in the rain for their Friday prayers last week, in protest at a "concerning" lack of facilities at their university.
The students from Queen Mary University, London (QMUL), say they feel discriminated against as there is not enough space in the institution's building to accommodate Muslim students en masse.
Despite large communal spaces being available at the university, the Islamic Society (ISoc) says it is not allowed to book them for Friday prayers.
The society has now started a petition urging the university to provide a suitable, safe facility which can host more than 500 students and staff every Friday and caters for both sexes. Hosted on change.org, the campaign has already garnered more than 2,000 signatures.
"More than 75% [are] unable to establish their religious obligation on time and with ease due to insufficient space," the petition reads. "The inadequacy of the current provisions dealt by the College has also resulted in female Muslim students and staff being denied the right to participate in the Friday prayers, consequently leaving them feeling discriminated against by the University."
Writing underneath the online petition, QMUL student Ivy Drake said: "Many of my friends at university are Muslim, [and] as a non-Muslim, I can see that Fridays are chaotic around campus as my fellow students are trying to find an adequate space to pray.
"As Friday prayers are usually said in congregation, one sex is usually always left out and this is usually the girls. This also then causes havoc for people of other faiths.
"As well as having a large Muslim population, QM has a very large Christian population and I believe that no matter what faith you belong to at QM, we should all have the facilities to pray in a quiet, uncrowded and comfortable environment - something that does not yet exist on Fridays at Queen Mary."
For the past two Fridays, hundreds of Muslim students have prayed outside in protest at the space shortage. According to ISoc, Muslims account for 20% of the student body.
QMUL's student union president Sarah Sarwar has openly supported the campaign, saying it is the university's responsibility to provide the facilities.
A spokesperson for QMUL said: "Space is limited and our priority is to provide lecture and seminar rooms for our 18,000 students. It is not feasible, nor within our educational remit, to make a permanent commitment to provide facilities for large congregational assemblies of 400-500 people.
"We have a multi-faith centre, in our new £5m student hub, providing prayer and washing facilities for all faith groups on campus. On Fridays these spaces are booked for Jumu'ah. We are also a five-minute walk from four local mosques and under a mile from the East London Mosque, one of the largest in the UK.
"This semester, the Great Hall and Octagon are booked and used for teaching and exams on Fridays until mid-afternoon. On occasion, the teaching may finish early, but it varies week to week. Both are in high demand and there would often be a need to remove more than 200 tables and chairs, which would take at least an hour to provide a space suitable for prayers."