"The fact that I couldn't get a permanent job definitely spurred me on to start my own business," says 23-year-old entrepreneur Oliver Barton.
The baker founded his sweet treats company Oliver's Kitchen earlier this year and says he hasn't looked back since.
"Business is really picking up, although there are a lot of challenges ahead," he continues. "Even though I always wanted to set up a business and be my own boss, I never envisaged myself having done so by the age of 23."
Oliver left school at 18, deciding university wasn't for him, and spent the next two years unsuccessfully applying for jobs. "I was on job seeker's allowance the whole time," he explains. "It was very tough. I was applying for about 100 jobs a week, and I wasn't getting any replies."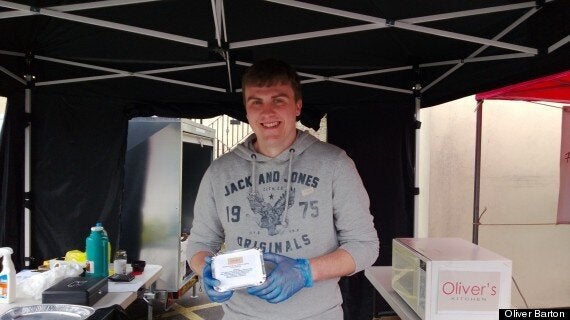 Oliver selling his produce at a market
Despite finally landing a job in a tool shop, he was made redundant after 18 months and found himself back at square one.
"I found it really hard to get any other work after that," Oliver says. "I went for so many interviews at call centres but struggled to get even those.
"I had so many bills and payments and I just thought 'I need to try anything to make money'.
"I've been baking all my life so that was a big inspiration for me. I use old family recipes and I thought I had some good produce so I should just try it out and see how it goes. I've been doing it ever since."
Oliver, who bakes traditional English delicacies such as sticky toffee pudding and bakewell tarts to sell at farmer's markets as well as catering for the private market, says he struggled to get a loan.
"One of the hardest things was definitely the finance side. You try and go to the mainstream lenders and they don't want to know. There's a lot of mixed messages coming out of the government - they want banks to build up cash reserves as well as lend.
"It is so hard if you are a young person trying to get finance and you've just left school. It's difficult to build up a credit rating, banks don't want to lend to people without a lending history.
"I obviously did have concerns - if it went wrong I could be a candidate for bankruptcy, but I just thought there's no harm in trying."
Oliver was eventually granted a loan by School for Startups but says he's spent a lot of it on converting his kitchen. "That's taken it's toll as I've had to cut back on equipment. As I'm working out of my own kitchen there's so many health and safety obstacles. It really impacts on your business."
But he's no defeatist, saying he "loves" the independence.
"I've got more time to do things in life I want to do. You can't buy that," he adds. "I'm doing an Open University law degree in my spare time. It's great."
And Oliver is eager to share his pearls of wisdom; "I would really encourage young people to think about starting their own business. I think people can be put off by the idea of getting funding. I did think it was out of reach. I'd had this idea a few years ago but I thought finance would be impossible. "
Related