Thousands of fish have mysteriously died in a lake in China, in what could be yet another example of the pollution plaguing the country.
The lake where the gruesome discovery was made has been described as a dark yellow colour with flies buzzing everywhere, according to Yangcheng Evening News.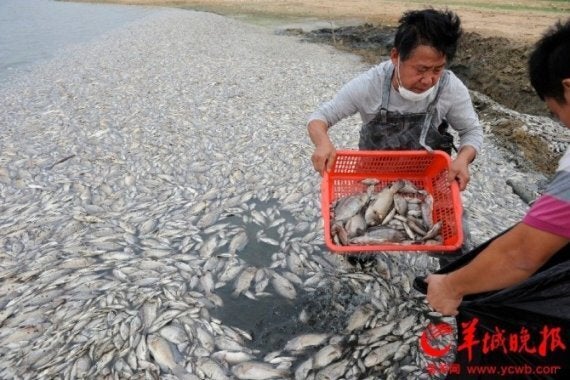 Some of the fish were already rotten and maggot-ridden, while others were being eaten by cats and birds, the paper described.
The unfortunate reporter sent on assignment to visit the site, said he could smell the stench of the rotting fish from over 500 yards away, making him feel dizzy and vomit.
A sanitation worker removing dead fish from the vicinity of the outlet pipe, where dirty water was draining into the lake, said that due to a lack of rain, the only other water that enters the lake is polluted.
"It's too smelly," one man said, adding that wearing a mask was not helping at all. "I couldn't even swallow my lunch, and just felt sick. There are at least 7.5 tons of dead fish here."
There are said to be several plastic factories in the area, with the discharge water reportedly flowing into a spillway that drains into the lake, the Epoch Times reported.
Inadequate controls on industry and lax enforcement of existing standards have worsened China's pollution problem, stemming from three decades of breakneck economic growth, according to reports.
Popular in the Community