On the day London Mayor Boris Johnson announced a new cycle superhighway, two more cyclists were victims of carnage on the capital's roads.
One cyclist suffered critical head injuries when he was thrown from his bike near Holborn,following a collision with a coach, the Evening Standard reported.
And 62-year-old man died after being struck by a tipper lorry, close to Queen Mary's University, on Mile End Road. He was pronounced dead at the scene, after collision happened as a lorry pulled away from stationary traffic. The vehicle was not turning at the time, Scotland Yard said.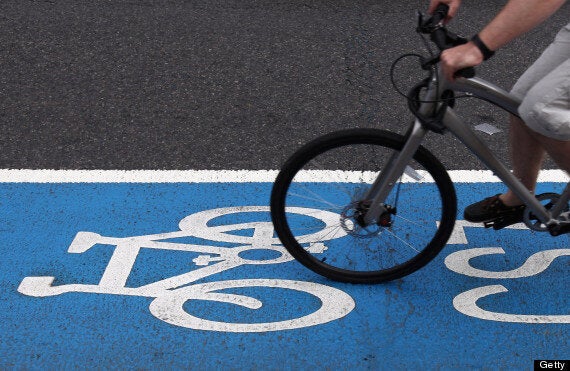 A cyclist uses part of the new Cycle Superhighway in Kennington
Mile End Road forms part of a "Barclays cycle superhighway", a cycle route that runs from outer London into the centre of the capital. He is the fourth in two years to have died after being hit on the same road.
Johnson is set to launch the Barclays Cycle Superhighway between Bow and Stratford this morning, joined by Transport Commissioner Sir Peter Hendy CBE and Cycling Commissioner Andrew Gilligan at the Superhighway.
He is expected to address serious concerns about superhighways raised by the coroner in the recent inquests into the deaths of cyclists Brian Dorling and Philippine de Gerin-Ricard.
Coroner Mary Hassell said: "It just seems it's an accident waiting to happen if cyclists are guided into space where the blue paint is on the left, then they are in the very place where the lorry is most likely to hit them.
"It seems like they are getting into the space where they are most vulnerable."
According to Transport for London, the superhighways "give you safer, faster and more direct journeys into the city and could be your best and quickest way to get to work".
Four superhighways have been launched so far, with a further eight to be introduced by 2015.
Nine cyclists have been kiled in the capital this year, seven involving a lorry.
Related