"When Father Aleksandar is lucky enough to be able to stay late in bed, he enjoys reading the Bible; his mornings are generally hard."
Welcome to the steamy preview of the 2014 edition of the Orthodox Calendar (OC), a smorgasbord of nude and semi-nude members of the church, with lashings of homoerotic double entendres.
It's the work of a company by the same name, which purports to "demonstrate that Orthodox believers do not all fit the backward, hidebound stereotype portrayed in the press but rather are regular people with passions, preferences, interests and desires."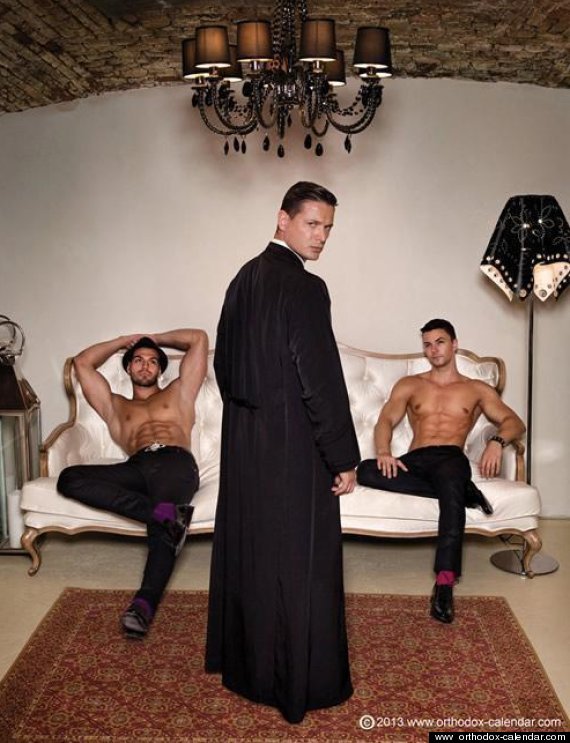 June: 'You need time to build a relationship with God, and Father Pavel knows he is there to get you back on the straight and narrow'
The calendar is produced as a tribute to gay marriage and is classed by the OC as as an "organised, global effort against homophobia in the Orthodox Church."
"It's the story of young gay couples from Eastern Europe sharing a common dream of one day being able to wed their beloved at the altar of St Basil's or St Sophia's or any other Eastern rite church," it adds in text on its website.
Last year, the OC released a similar tome claiming to show "seductive artistic pictures of Orthodox priests and their guests."
SEE ALSO: The Vatican Does Not Want You To See These Pictures Of Gay Couples Kissing In Church
The calendar made predictable waves with the Romanian Patriarchy, which refuted the claims, telling the Bucharest Herald the models were merely "posing as Orthodox priests", that the product was "indecent" and "created with an "obvious intention to calumny and defame Orthodox ministers and desire to promote and justify their own ideology."
Something tells us they aren't going to be overjoyed with the OC's latest offering either...