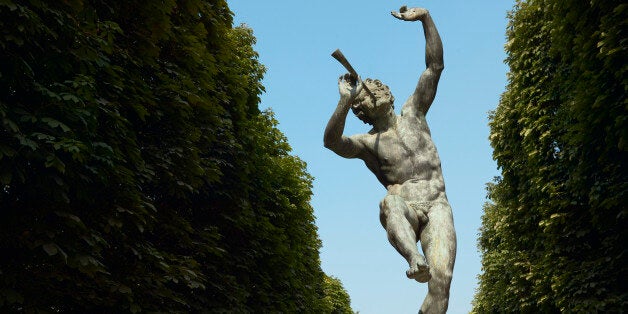 A community maze dubbed a waste of taxpayers' cash is to be locked at night after dozens of naked revellers were caught using it as a party venue.
The novelty "labyrinth" in the seaside resort of Aberystwyth, West Wales, was dismissed as "horrendous" by some locals even before it opened in the summer.
Built at the cost of £5,000 on an unused green at a bowling club in Queen's Road, it has previously been likened to a military memorial in the Somme.
Consisting of 720 separate waist-high wooden posts linked by one mile of rope threaded between them, getting lost is not an option.
Getting naked, however, is another matter, according to one resident who wrote to the town council to complain in a letter read out at its last meeting.
It claimed up to 50 drunken revellers, believed to be university students, were caught running around inside the maze in a naked or semi-naked state.
Their swearing and drunken antics lasted for about 30 minutes, woke his children, and prompted him to call the police, who dispersed the group.
Town councillor Ceredig Davies confirmed that the council was taking action to lock the labyrinth as a result of the letter.
"The town council received a letter from a resident who lives in the proximity of the labyrinth and who was not happy it was not locked at night." the councillor said.
"He stated that on one particular occasion there were people running around inside it - starkers."
He added: "As a university town, we do experience an element of young people enjoying themselves in high spirits.
"The council has taken on board the fact that for security reasons we need to put a lock on the gate.
"That has either happened or will do soon.
"It will be locked after dark in future."
He said the labyrinth was about half as large again as a tennis court and could probably accommodate up to 100 people at a time.
A police spokesman said: "Dyfed Powys Police received a report at approximately 11.55pm on October 23 of a group of people engaging in anti-social behaviour at the park close to North Road, Aberystwyth.
"Police officers attended and instructed the group to remove litter they had left and gave suitable words of advice before instructing them to leave."