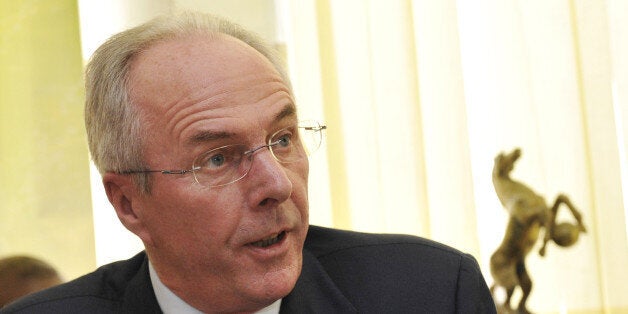 Sven-Göran Eriksson is the latest manager to release his autobiography this season. Harry Redknapp told of fake jockeys and slammed the FA, Sir Alex Ferguson settled scores, while Eriksson has detailed his sexual encounters, amongst other anecdotes. And the most memorable has popped up in a Norwegian paper.
Eriksson's book has been serialised in English, Swedish, Italian, Finnish and Danish, but Norway have arguably been treated to the most amusing of the Swedish lothario's encounters.
Norwegians can read about how a night out with former IFK Gothenburg player, Glenn Schiller, ended, for Eriksson anyway, in an apartment with a new female friend. Only the pair were interrupted by the woman's husband.
"We soon found ourselves naked on the sofa," Eriksson writes. "She had not said anything about being married but suddenly the door opened and there was a big man: 'Who the hell are you?' he said. I said: 'I think it is probably best if I leave,' and he replied: 'I think it probably is.'"

"What would have happened if a photographer had seen me, walking around in just a shirt with basketball shoes seven sizes too big? That would probably have created a few headlines."

"I later met Glenn [Schiller] again," he said. "He knew the woman and made sure I got my jacket and wallet back. I think he returned the basketball shoes as well."
Related