Google's Nexus 5 is the latest in its series of flagship stock Android smartphones. It starts at £299 off-contract from Google's Play store.
Android 4.4 KitKat OS
4.95-inch 1920 x 1090 screen (445ppi)
1.3 megapixels front-facing camera, 8 megapixels rear-facing
Qualcomm Snapdragon 800 processor
16/32GB storage
Bluetooth 4.0
"Nexus 5 helps you capture the everyday and the epic in fresh new ways. It's the slimmest and fastest Nexus phone ever made, powered by Android 4.4, KitKat…. It's a 5" phone, and so much more. Built with precision, Nexus 5 delivers an intelligently simple design and showcases a stunning full HD display.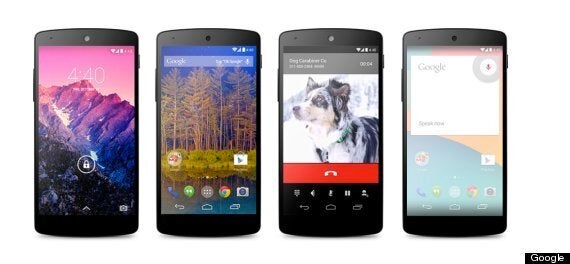 The LG Nexus 5 is a bit of a conundrum, in that it maintains the same formula as Google's other Nexus devices - a low price, the latest Android software, solid if unspectacular build quality and great screens - but somehow loses a bit of its reason to exist in the process.
Before we get into the phone's more existential problems, let's talk through the hardware - which is almost all excellent. The phone is light, thin, has a nice rubberised backplate and a functional, straightforward design in line with the look and feel of the Nexus 7. It's not beautiful, but it's solid and pleasing. The screen bezels are thin, and the display itself is excellent, seeming to blend imperceptibly into the case in the same way as last year's Nexus 4. There are no major innovations, and it could have used a touch of colour, but it's a handsome phone.
It also performs brilliantly in day-to-day usage. It's based largely on the recent LG G2, with the same Snapdragon 800 processor, 2 gigs of RAM and other internals which means it's a very fast, trustworthy device for pretty much anything you can throw at it, including games. There's no SD slot though, which is a shame.
Similarly, you can't fault the Nexus 5 software, which is stock Android 4.4 KitKat - the latest version, which integrates SMS messaging into Google's Hangouts App, adds the ability to ask Google questions without touching the screen (though only if you set the language to 'US English' oddly) and tightens up some other small areas of the OS. That said, the 'stock' flavour of Android feels ever more like it's actually Google's version, not an unaltered base on which others can build. Google's services are ever more embedded, and we can see Samsung stripping much that's new out when they eventually transition over.
The major downside here is the camera, which is a fine performer but pales in comparison to that in virtually every other flagship phone, including the iPhone 5S or 5C, most of Nokia's latest handsets and the top phones from Samsung and even LG itself. The pictures often look washed out or unfocused, and the Camera app takes a long time to settle down and take a picture. This might be improved by software updates, but there's no guarantees.
Consider the price, though, and you might forgive that major flaw. The phone starts at £299 off-contract. While that might not sound that cheap if you focus on the subsidised price of an S4 or iPhone, consider that over a two-year contract you can save lots of money by going for a SIM-only deal. Plus if you lose your phone or want to switch providers, you won't be locked in to a restrictive contract. The Nexus 5 isn't the no-brainer the Nexus 4 was, but it's still a fantastic deal.
Overall, it's hard to fault the Nexus 5. The real let-down though is that unlike many other Nexus products in the past, it doesn't really point towards a new future for Android, or push towards new features, trends or benchmarks. It feels more like an Apple product that Google perhaps intended - small innovations and improvements, refined hardware, but no great leaps in imagination. It's likely that 2014 will bring more invention and ideas from a company which has never lacked in those areas. But right now it feels a bit less thrilling that we'd hoped.
That aside, the Nexus 5 is clearly a great device. For a Google user with an eye to value, it's a brilliant choice - and for everyone else it's definitely up there with the S4, HTC One and LG G2 in the top echelon of Android phones, while costing less than any of them.

Related