Tributes have been paid to former BBC political editor John Cole, who has died after a long illness, aged 85. His family announced the death of the broadcaster who spent 10 years with the BBC after a lengthy career in newspapers and was famed for his impartial approach and his distinctive Ulster accent .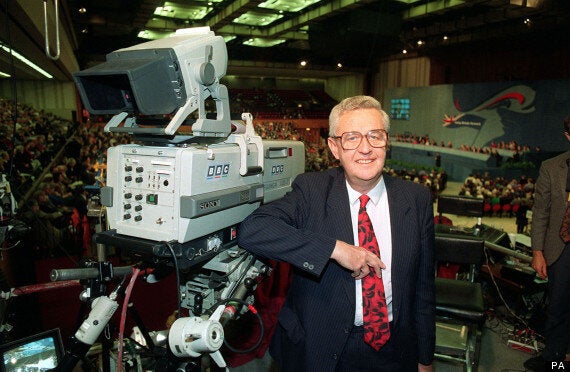 Cole died on Friday after a long illness
He died at his Surrey home on Thursday and is survived by his wife Madge, four sons - Donald, Patrick, David and Michael - and nine grandchildren. His family said: "While many people will remember John for his journalism and broadcasting, for us he was the most loving, funny and devoted husband, father and grandfather. We will miss him terribly, but have so many memories of the tremendous happiness he has brought into our lives."
David Cameron's official spokesman said: "The Prime Minister is deeply saddened by the news and would send his condolences, of course, to Mr Cole's family and friends. "He is someone who contributed so much to British political life."
Labour leader Ed Miliband wrote on Twitter: "My generation grew up watching John Cole. He conveyed the drama and importance of politics. Many condolences to his family." As the face of the BBC's political coverage during the Thatcher years, he covered major stories including the Falklands War, the Brighton bomb and Margaret Thatcher's resignation as prime minister.
The BBC's current political editor, Nick Robinson, said Cole's death was "sad news". Writing on Twitter, he said: "The man I learnt so much from, the BBC's former political editor John Cole, has died. He shaped the way all in my trade do our jobs."
Former Cabinet minister and chairman of the BBC Trust Lord Patten said: "John Cole was a hugely respected BBC political editor, whose absolute integrity and astute analysis, to say nothing of his distinctive delivery, defined political reporting in the '80s. My thoughts are with his family." The BBC's director of news and current affairs, James Harding, said: "John was a loved and respected broadcaster, a journalist with his own unforgettable style and a commanding knowledge of his subject.
"He embodied the qualities of a truly great journalist: integrity, curiosity and character. He will, I know, be sorely missed and fondly remembered across the BBC. Our thoughts are with his family." Scotland First Minister Alex Salmond said: "When I started out in politics at the House of Commons, John Cole was the main BBC correspondent. Not only was he an extremely able journalist but also extraordinarily helpful and generous to a young politician."
Cole was born in Belfast in 1927 and started his career on the Belfast Telegraph in 1945 before joining The Guardian, where he worked as labour correspondent, news editor and eventually deputy editor. In 1975 he joined The Observer before moving to the BBC in 1981. He retired after the 1992 general election and wrote his memoirs, As It Seemed To Me, and a novel set in his native Northern Ireland.
In his memoirs, Cole recounted how an interview early in his career with then prime minister Clement Attlee during a holiday in Ireland inspired him to to work in Westminster. He went on to interview many of Westminster's biggest names and was a regular fixture outside Downing Street in the 1980s.
Former prime minister Sir John Major said: "John Cole was one of the finest political correspondents of my lifetime, and a real credit to his profession. When John spoke, everyone listened. "He was always well-informed, balanced - and trustworthy - and set the bar very high for all who followed. My thoughts and sympathy are with his family."
Tory grandee Lord Heseltine said Cole's success involved a "great deal of charm" and said his accent helped him stand out. He told BBC Radio 4's World at One: "John became a national character ... I think the accent was a great help, didn't do him any harm at all, everybody knew who he was. "I look back with great fondness to my relationship with him."
Ken Clarke, a Cabinet minister under both Margatet Thatcher and John Major, also paid tribute to Cole. "He was an outstanding political journalist but he was also genuinely a very nice, witty character, whose company was always a pleasure," he said. "The relationship between a politician and a journalist is always a little combative, but it was always fair in his case and we really became quite good friends. My wife and I will miss him."
BBC director-general Tony Hall said: "He was the BBC at its absolute best, he became a national institution. We shall miss him enormously. He did a huge, huge amount for political journalism in this country, and for the BBC."
Former prime minister Gordon Brown said: "John Cole was the soft-spoken giant of journalism whose friendly manner and unimpeachable integrity allowed him to ask the difficult questions that got to the heart of an issue. "Respected by all, he leaves a great legacy of writing and commentating which will serve the test of time."