The lyrics to Margaret Thatcher's favourite hymn I Vow To Thee My Country could be re-written, because they seem obscene to modern military families, a leading vicar has said.
Rev Gordon Giles said the hymn could "give offence" because it references fighting for "a king as head of an empire, whose bounds need to be preserved for the benefit of subjects at home and abroad.
Many question the curent relevance of the lyrics, he pointed out. "In post-colonial Britain this comes across as patronising and unjust. Associating duty to King and Empire with a divine call to kill people and surrender one's own life is a theologically inept reading of Jesus' teaching."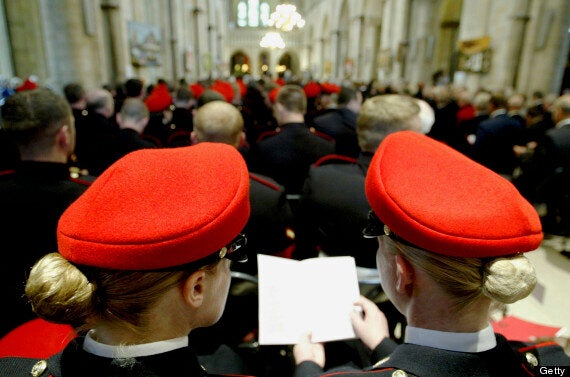 Two military police redcaps from Royal Military Roussillon Barracks sing a hymn during a service
"Should we, undaunted, make the sacrifice of our sons and daughters, laying their lives on the altar in wars that we might struggle to call as holy or just? These are real questions for those who go, or see their loved ones go, to fight in arenas of conflict today."
Writing in the Church Times, Rev Giles, who is vicar of St Mary Magdalene in Enfield, continued: "Furthermore, if the cause is wealth, power, influence, national pride, then the sacrifice is diminished and its connection to the pride of suffering is, for me, almost obscene.
"Many would question whether we can sing of a love that 'asks no question', that 'lays on the altar the dearest and the best' and that juxtaposes the service of country and that 'other country' of faith.
"The notion of vowing everything to a country, including the sacrifice of one's life for the glorification of nationhood, challenges sensibilities today."
Rev Giles noted that the song was still a cause of much pride for many military families who are "moved by doing so, and can become upset if they are prevented from singing it.
"Soldiers can sing these words with a power that others cannot."
Rev Giles suggested some minor tweaks to make the words more palatable to modern service, including swapping "asks no questions" to "strives for justice".
The original poem was written by Cecil Spring-Rice, who developed the piece as he was ambassador to Washington. He is credited for having persuaded then-US President Woodrow Wilson to join the Allies against Germany in 1917.
It was set to music after the First World War, in 1921, by Gustav Holst, which was adapted from his Jupiter section of his suite The Planets.
Diana, Princess of Wales, personally requested that the hymn, a "favourite since school" be sung at her wedding to Prince Charles, and it was played at her funeral in 1997, and also at Thatcher's funeral in May this year.
ARE THESE LYRICS CONTROVERSIAL?

I vow to thee, my country,

All earthly things above

Entire and whole and perfect,

The service of my love

The love that asks no questions,

The love that stands the test

That lays upon the altar,

The dearest and the best

The love that never falters,

The love that pays the price

The love that makes undaunted,

The final sacrifice