David Dinsmore told BBC Radio 5 Live he was "standing [his] ground" on the controversial regular, despite repeated pressure from politicians, anti-sexism campaigners and student bodies.
Page 3 has often been criticised by women's groups, and earlier this year Green MP Caroline Lucas wore a T-shirt with the slogan ''No More Page Three'' during a debate on sexism in the media.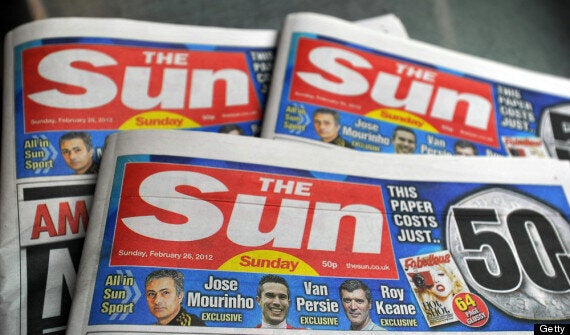 Page 3 has garnered increasing criticism over recent years
Labour deputy leader Harriet Harman has been a long-term opponent while party leader Ed Miliband said there was no place in the modern world for pictures of topless women in newspapers like The Sun - although Miliband said he would not ban Page 3 pin-ups if he becomes prime minister after the 2015 general election.
But Dinsmore remained determined about the future of Page 3. He told John Pienaar on 5 Live's Pienaar's Politics: "I think that it is a lively issue for people who don't buy the paper and we've done the research, done the focus groups and in many ways listened to the campaigners to say: 'What does it mean to our readers?'
"The result comes back a resounding 'keep it there, don't take it away'.
"I'm making a paper for the readers, I'm not making it for Harriet Harman - although she's more than welcome to try it out. They're the ones that matter to me."
Asked by Pienaar about women's opinions of Page 3, Dinsmore said: "We've done focus groups and we're surprised by how vocal women are in support of it.
"That's the fascinating thing - [they're saying] 'don't mess with my paper, I'm not going to be told by anyone what should be in my paper'."
He added: "Breasts have always been a big part of our life. I think my mother had them and my wife has them and they are pretty commonplace.
"I think there are much bigger issues in the world and frankly if Page 3 is the root of all evil, we're coming at it from the wrong place."
But Ms Harman said the feature gave people the wrong impression of women and their role in society.
The shadow culture secretary said: "I think it's not just me. It's about many people in the women's movement who think women can aspire to more than appearing in a newspaper in their knickers.
"To be objects, ogled over in a family newspaper - we can do better than that.
"Suppose somebody came from outer space and said 'what's the role of women today?'
"If the depiction was that men are running the show and women are in their knickers on Page 3, they would think 'that's not a very good society'."
She added: "When it comes to something like Page 3, I can't be told 'you can't have a view'. I am entitled to my view."