Explosions shattered the silence of an Oxfordshire village on Remembrance Sunday as Hollywood bosses sparked outrage.
This was despite a plea to suspend filming from the nearby Watlington Parish Council, the Mirror reported.
Producers sent residents leaflets last month warning them to expect gunfire and explosions.
Chairman Ian Hill said: "Whoever is responsible is insensitive. A letter has been sent to express our feelings of how inappropriate it was for Sherman tanks to be rolling across the countryside while explosions were being let off. Local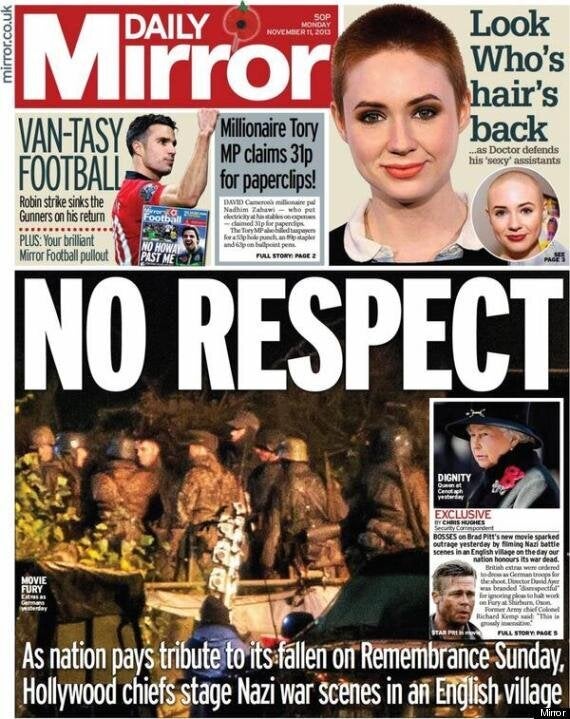 The Mirror broke the story
Colonel Richard Kemp, former commander of British forces in Afghanistan, said the decision to film was disrespectful.
"At the very time a nation pays tribute to those who gave their lives to stop Nazis rampaging across our land it seems grossly insensitive to impose such scenes on villagers," he told the Mirror.
"A director whose film is profiting from the sacrifices made by 800,000 British and American soldiers in the Second World War has a duty to ensure his crew are allowed to pause to pay proper respect to the dead."
Shadow Defence Minister Kevan Jones said: "I'm astonished producers would not consider it to be inappropriate to film such scenes on Remembrance Sunday.
"And it is outrageous appeals from locals to reconsider plans to film on such an occasion were ignored."
Producer Sony was not available for comment, the Mirror said.
Popular in the Community