Cellular Solutions may be a fantastic communications provider, but we wonder if the four male senior managers will be happy to hear the rest of the world discussing their employee make-up?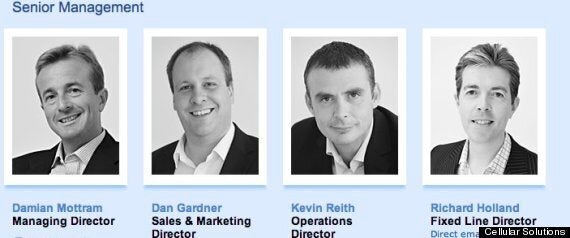 The four men in charge of it all
People have expressed disbelief about the 31-strong team at Cellular Solutions on Twitter.
The critics include Evgeny Lebedev, owner of the Evening Standard and Independent newspapers. Cellular Solutions, which has partnerships with Vodafone and O2, has women in every role, except for in senior management.
The sudden popularity of Cellular Solution's staff page caused the website to crash, and now it is "under maintenance".
Employment experts told the Huffington Post UK that Cellular Solutions gender balance was "unusual", "peculiar" and risked looking "seedy".
"It could be a coincidence, but it does seem odd. It may well lead to questions being asked about their recruitment strategy.
Russell added: "If your recruitment strategy is to go for people of a particular type and you recruit them because they're a particular type rather than having the skills to the job, that is both illegal and seedy.
"Even if it's totally okay, it's good business sense to have a mix of ages, types and racial backgrounds. In an ideal world, you should be looking for a business that reflects your local population."
Jennifer Nicol, partner at the law firm Doyle Clayton, said: "Alas this type of gender imbalance is not just common but prevalent in FTSE companies and throughout the City of London generally.
"Some businesses (but sadly very few) are getting to grips with the issue."
The Huffington Post UK tried to contact Cellular Solutions' senior management but they refused to comment.