The interview in full here reveals the extent of his efforts at reinvention, but, just to whet your appetite, here are some of his thoughts on his forays into mainstream showbusiness... some of it, pure 'gold', you might say.
On his 'EastEnders' past, and the soap's latest recruit...
"I actually don't give a fuck. We always called him Straight-to-DVD-Danny-Dyer. Everything he does is with a 'D'. 'Danny Dyer with Dangerous Dogs and Dinosaurs in Dulwich with Doughnuts.' Take away the 'D' element and he's finished."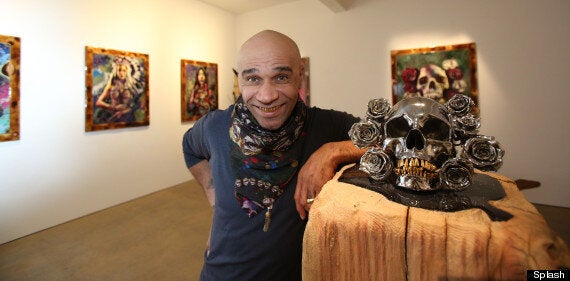 Goldie at home in the art world
On his time on 'Strictly Come Dancing'...
"Maybe Strictly was a bad idea... it was good fucking money though... If I want to put on a silly shirt and get £100,000 in the bank for my kids then I don't care
On other celebs like Rita Ora and Madonna emulating his familiar gold teeth...
"Everybody did gold teeth [when I was] in Miami. My gold teeth are not a big deal. [They] were as common as wearing a pair of Adidas trainers or Nikes. Celebrities have been following me, following me in a really bad way."