A Palestinian Authority minister has delivered a sermon comparing Yasser Arafat's death to that of the Prophet Muhammad – and blamed the Jewish people for both deaths.
The Palestine Liberation Organisation leader died mysteriously in Paris in 2004, following a short illness, prompting suspicions he had been poisoned.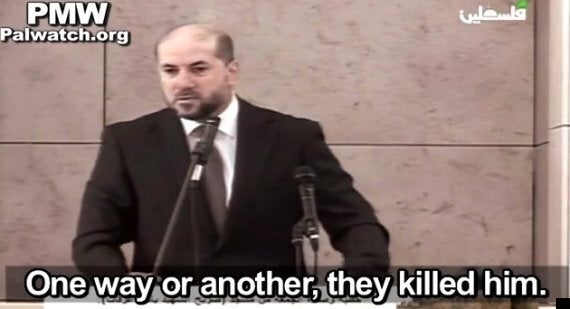 Palestinian Authority Minister of Religious Affairs Mahmoud Habbash
Citing a hadith which claims Muhammad told his wife on his deathbed that he had been served poisoned meat by a Jewish woman, Minister of Religious Affairs Mahmoud Habbash insisted both men had been poisoned and murdered by the Jewish people.
In the televised sermon which was translated by Palestinian Media Watch, he said: "Yasser Arafat died a martyr.
"We don't have the slightest doubt that they (the Jews/Israelis) killed him. One way or another, they killed him. Even Allah's Messenger, they killed him with poison. PLO leader Yasser Arafat died in Paris in 2004
"When he was dying, he said to his wife Aisha: 'I feel the same pain I felt from the poison that I ate at Khaibar.' Poison that he ate at Khaibar — he continued to feel the pain until he died. 'I feel the same pain I felt from the poison that I ate at Khaibar.'
"Be satisfied, o mighty one, o Martyr Arafat, that you were killed the same way Allah's Messenger was killed," Habbash continued.
"We have no doubt, and I don't think there is a single one among us who has the slightest doubt that Arafat was killed. Deep inside we all know who killed him."
At a news conference in the West Bank city of Ramallah on Friday, the head of the Palestinian committee, Tawfik Terawi, directly blamed Israel for Arafat's death.
"It is not important that I say here that he was killed by polonium,'' he said. "But I say, with all the details available about Yasser Arafat's death, that he was killed and that Israel killed him."
Israel has repeatedly denied killing Arafat and called on the Palestinian leadership to release his medical records, which it has refused.
Foreign Ministry Spokesman Yigal Palmor told AFP last Friday: "I will state this as simply and clearly as I can: Israel did not kill Arafat. Period. And that's all there is to it."