Holly Willoughby has finally broken her silence on her thoughts about This Morning's controversial commentator Katie Hopkins.
Holly famously clashed with the former 'Apprentice' candidate during a debate about children's names being related to class on the ITV daytime show, and has now said she "doesn't know what goes on in Katie's head".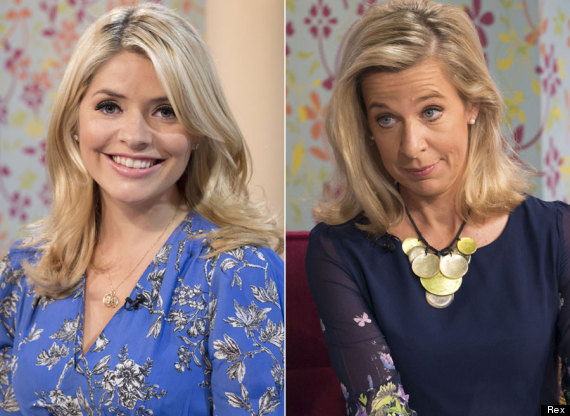 Holly Willoughby and Katie Hopkins
During an interview with The Mirror, Holly said: "I've never known anything like it, the reaction she creates. I honestly don't know what goes on in Katie Hopkins' head.
"Yes, I was really angry. It's great to have debates. If someone feels passionately about something they should have the right to talk about it.
"But I think she goes too far occasionally and when she gets personal I don't like it. Which is why I told her to stop that first time. 'This Morning' isn't an arena for personal attacks," she added.
Katie returned to the 'This Morning' sofa on Tuesday, where she clashed with Peaches Geldof over attachment parenting.
Katie labelled the star a 'crap' parent, while Peaches accused Katie of being a "rent-a-gob" who slagged off her own children and other women to gain media attention.
Peaches posted on Instagram after the appearance: "I think we all know who won. She was quaking in her Sloanie old boots. The panto witch finally met her match!"
LIKE US ON FACEBOOK | FOLLOW US ON TWITTER