Allan McNish has admitted he shed 'a few tears' when he won the World Endurance Championship title in China.
The Scot crossed the line in third place at the Six Hours of Shanghai to claim the title along with Audi team-mates Tom Kristensen and Louic Duval at the end of the seventh race in the championship. three of which they have won including victory at the Le Mans 24 hours in June.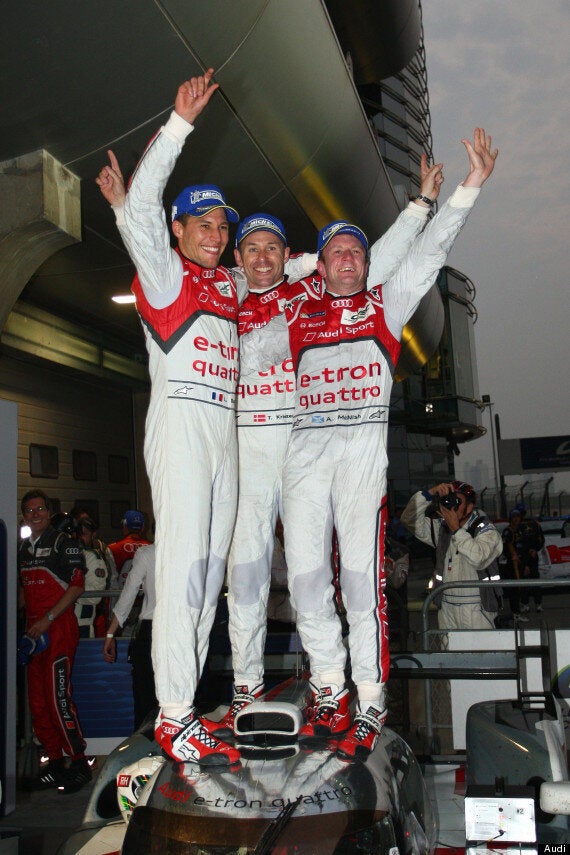 Loic Duval, Tom Kristensen and Allan McNish celebrate in Shanghai
Speaking in this week's Autosport magazine, McNish, who is Scotland's first endurance racing champion, said of Saturday's triumph: "It was a surreal moment as I contemplated what Tom, Loic and I have achieved this year. There were a few tears, I have to say."
In spite of a hugely successful sportscar career, the three-time Le Mans winner has waited a long time to become a world champion. Not since his final year in Formula One had McNish competed in a world championship until the FIA launched the world WEC in 2012.
That year, McNish and co had to settle for the runners-up spot behind their other Audi team-mates Andre Lotterer, Marcel Fassler and Benoit Treluyer. But, the 43-year-old from Dumfries completed the job in 2013 to become Britain's latest world motor racing champion.
After the win in Austin, McNish explained how important the title was to him: "I've been waiting for this moment since 1985. Even in karting, I battled for the World Champion's title – back then at Le Mans by the way. In Formula 1, I didn't have a real chance. Now, in my third motorsport discipline, it's worked out.
"I'm proud of what we've achieved together this year."
As well as his Le Mans wins, McNish is also a three-time American Le Mans Series champion. Although based in the US, the series was a global one with races in Europe and Australia, and McNish has previously said those championships were as good as world titles.
The final race of this year's WEC is in Bahrain at the end of November.
Popular in the Community