Cheney's daughter, Liz, is running for Republican Senate primary in Wyoming, a typically conservative state requiring a senator with suitably conservative views.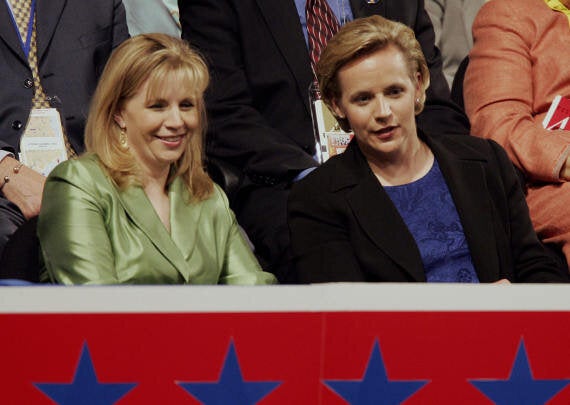 Liz and Mary pictured in 2004
The other Cheney daughter, Mary, is a married lesbian with two children.
Liz said: "I love Mary very much, I love her family very much. This is just an issue on which we disagree"
I was watching my sister-in-law on Fox News Sunday (yes Liz, in 15 states and the District of Columbia you are my sister-in-law) and was very disappointed to hear her say "I do believe in the traditional definition of marriage."

Liz has been a guest in our home, has spent time and shared holidays with our children, and when Mary and I got married in 2012 - she didn't hesitate to tell us how happy she was for us.

To have her now say she doesn't support our right to marry is offensive to say the least.

I can't help but wonder how Liz would feel if as she moved from state to state, she discovered that her family was protected in one but not the other.

I always thought freedom meant freedom for EVERYONE.
Adding to the family tension is Dick's stance on the issue.
He endorsed state-sanctioned gay marriage in 2009 but is backing Liz's campaign - and therefore her views.