7.9-inch 'Retina' display (2048 x 1536)
20 cm tall, 12.4 cm wide
A7 processor and M7 motion coprocessor
Dual MIMO WiFi (LTE available)
1.2MP front-facing camera
5MP rear camera
1080p video recording
16-128 GB storage
10 hour battery life
"Photos and videos look incredibly detailed and text is razor sharp on the stunning Retina display, which features over 3.1 million pixels -- a million more than an HDTV."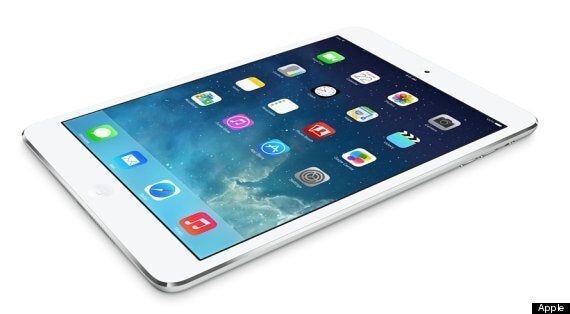 After using the new iPad Mini with Retina Display, we think that might still be true.
It's just that while you might still prefer the Air, that's now purely a matter of personal preference. From a technical standpoint, there is virtually nothing between the Air and the Mini Retina other than their physical size. And while the iPad Mini Retina is only one of the two best tablets ever made, it is also by definition Apple's most impressive technical achievement in a long time.
To explain, we think there are two main ways to look at the Mini Retina. The first is as a standalone product - and on that score, it's a fantastic device. Its 7.9-inch, 2048 x 1536 screen is just brilliant, displaying vibrant and clear colours and an almost unsettling level of detail. The outward design is the same as last year, which is to say it's extremely pretty and thin. There's a marginal increase in weight and thickness, but you won't be able to tell with a blindfold on. The smaller form factor is great for reading and watching movies, and is light enough that you'll barely notice if you throw it in your bag on the off-chance you'll use it. Your use case is unique to you - but it's still arguably more convenient than the Air unless you need the bigger screen for work or picture editing.
In performance terms. the A7 processor represents a four-times jump over the old Mini, with eight-times better graphics. It has faster WiFi, a nicely augmented line-up of Apps (iWork and iLife now come as standard on the machine) and at £319 is £80 cheaper than an iPad Air. And of course you're also getting everything that has made the iPad such a success since its introduction - thousands of five-star apps in the App Store, a rock-solid iOS operating system and the best all-around tablet user experience you can buy.
Compared to the old Mini - which is still available at £249 - it's a massive upgrade, and excellent value for money. Yes, it's more expensive than some other smaller tablets - from Tesco's budget Hudl to Google's Nexus 7 -but it's still a much-more rounded tablet experience. You'll use it more, and you'll love it more than any apparently equivalent machine. On its own terms, it's not expensive.
All of which makes the Mini Retina sound like a solid, straightforward upgrade. Which it is, from this first point of view.
But the other way to look at the Mini Retina is in a context of Apple's product release schedule, and the iPad Air in particular.
And by this score, the Mini Retina an absolutely staggering device. For Apple to build a Mini with virtually the same weight, thickness and battery life as the old one, with a screen and processor as good as the full-size iPad, for £319, just 12 months after the original release -- well, it's insane. It feels like they jumped 12 months in the release schedule just for the hell of it. If you hold a calendar in one hand, and the new Mini in the other, it feels like either you, or it, must have travelled in time.
The Mini is no longer a smaller, less powerful iPad. It's just a smaller iPad. But yet again, the word "just" doesn't really seem adequate, here. The Mini Retina isn't "just" anything. It's a beautiful, ridiculous device which shouldn't exist yet, but does.
There are still some downsides. It is more expensive than similar 7-inch-ish Android tablets, iOS 7 isn't yet as good on tablets as it could be, and for some specific needs - stylus performance, widgets, raw PPI resolution - there are arguably better options.
And yes, you might still prefer the Air. If you watch movies more than read, or use your iPad for work more than travelling around with games and magazines in your pocket, the bigger screen might make more sense. But aside from your personal preference for screen size, there are no other compromises for picking the Mini. And that just blows our mind.

Related