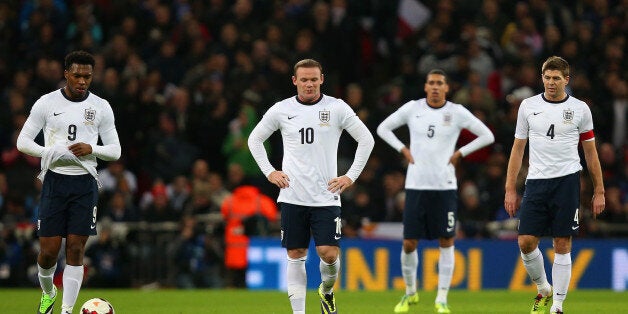 England lost their second home international in four days as Per Mertesacker's first-half header clinched Germany's third successive victory at Wembley.
Although a game of little consequence, it provided Roy Hodgson more food of thought ahead of his unenviable task of selecting the Three Lions' World Cup squad.
STURRIDGE STRUGGLES AGAIN
While it is indisputable Daniel Sturridge and Wayne Rooney are England's best partnership, the former is struggling to justify his starting berth. Sturridge's niggling thigh injury may have inhibited him on Tuesday night, but he was repeating the basic errors which persuaded Chelsea to sell him to Liverpool in January. Too often guilty of trying too hard as he dropped off into territory reserved for Rooney, Sturridge at least allows his partner a freedom he was rarely afforded under previous England regimes, yet he seldom looks as threatening up front as he does in the Premier League.
CLEVERLEY WILL BE LUCKY TO MAKE PLANE TO BRAZIL
Phil Jones' misfortune is Tom Cleverley's fortune. The defender-cum-right-back-cum-central-midfielder's latest injury, coupled with Michael Carrick's lay-off until Christmas, will grant the Manchester United midfielder some frankly undeserved game-time. England suffer from a paucity of options in the same area and Cleverley's selection beside Steven Gerrard was as peculiar as his performance was disappointing.
England 0-1 Germany: Player Ratings
Considering how immobile Gerrard is in the twilight of his career the hesitant and ineffective Cleverley was purportedly picked to inject some energy, only he was lifeless. The galling truth is he hasn't sparkled for his club in over two years.
WILL HODGSON APPLY SAME PRINCIPLE TO JOHNSON AND WALKER?
While his 106 caps affect Hodgson's decision greatly, Ashley Cole's edge over Leighton Baines at left-back is owed to his superior defending. Baines is a greater attacking asset, though, as is Glen Johnson on the right flank. However, Kyle Walker is arguably more solid defensively than Johnson, and while his atrociously memorable first-half free-kick emphasised his shortcomings in the opponents' half, he could benefit from Hodgson's pragmatism.
LALLANA DESERVING OF CENTRAL ROLE
Whether he maintains his excellent Southampton form or not, Adam Lallana's technique on the ball and prudent possession play will be essential at the World Cup. Even though he does not have the luxury of ideal supporters in the middle third, he was one of the few England players to emerge from another Wembley defeat with an enhanced reputation.
England 0-1 Germany In Pictures
GERMANY OUTPLAYED ENGLAND WHEN THEY LOOKED BOTHERED
England didn't deserve to trail Germany at the pause. They played some serene, if unthreatening, football as they gently probed the visitors' makeshift rearguard in what were encouraging signs for a team synonymous with steel, rather than silk.
The caveat was Germany treated the friendly as a testimonial during this period, and as soon as Joachim Löw ordered them to take it more seriously they went ahead. After the interval, Germany could have scored three times in the opening five minutes, as if to stress their superiority. With Özil, Müller, Schweinsteiger and Khedira, the margin of victory could be greater than it was in 2010 should they meet England again in Brazil.
Popular in the Community