Lidl has apologised for an advert that appeared to mock a transgender woman.
The budget supermarket chain said the billboard, which had been displayed in the Newcastle area, had been withdrawn and would never be used again.
It featured what appeared to be a transgender woman, with the headline 'unexpected item in bagging area'.
The advert was for a beer called Perlenbacher ('German for honest') which was sold in Lidl.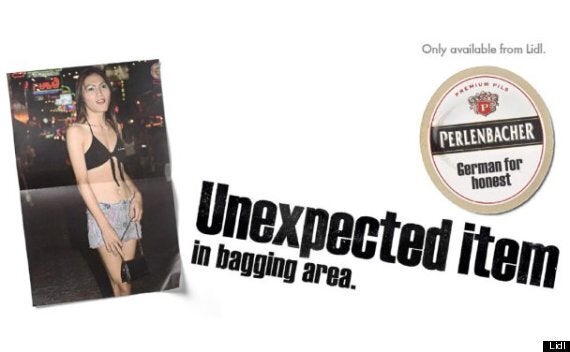 The advert was pulled after complaints
The Trans Media Watch charity said its supporters had made complaints to the Advertising Standards Authority about the poster, which it said could put transgender women in danger.
In a statement, Lidl told HuffPost UK: "This advert was initially displayed in two locations in the Newcastle area.
"After receiving a complaint about this advert at the beginning of November we immediately instructed our outdoor media booking company to remove the posters and to cancel any further planned displays. These posters have since been removed.
"We would like to sincerely apologise to any customers or members of the public who were offended by this advert and can confirm that this advert has been permanently removed from this, and any future, campaigns."
The Trans Media Watch confirmed it had expressed concern about the advert.
"We found the ad to be deeply problematic because the slogan 'unexpected item' implied deceit on the part of the person it depicted.
"The myth that trans women and cross dressers present as they do in an attempt to seduce straight men is sadly still widespread and is commonly used to try and justify aggression against them. Promoting this myth puts trans people in real danger.
"Plenty of trans people shop in Lidl and we would hope that it would show more respect for its customers as well as a greater degree of general social responsibility. We hope that the withdrawal of the ad signals a real change of heart and that nothing like this will happen again."