P&O have said they will rescue a 32-stone Frenchman who has been refused all other means of travel.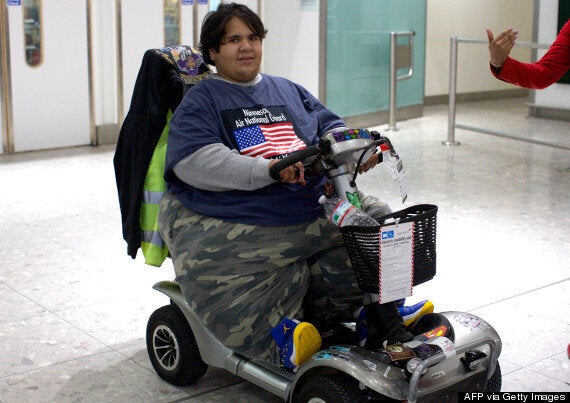 French Kevin Chenais, who was deemed too fat to fly
Mr Chenais, who had been in the US since May 2012 for hormone imbalance treatment, is now set to finally return home.
"Mr Chenais will be travelling on one of our super ferries today – either the Spirit of Britain or the Spirit of France.
"They are probably the only ferries that could do it."
"But we are happy to help. We are the only ferry company capable of making the movement.
"We won't be charging any extra."
Mr Chenais and his familiy initially tried to sail across the Atlantic on the Queen Mary 2, but the cruise ship's owners also refused to have him on board.
He arrived at London's Heathrow airport yesterday after Virgin Atlantic agreed to fly him back from New York.
But he could not travel on to Paris after Eurostar officials said having him on board would breach its evacuation procedure regulations.
"His weight meant that we would not be able to take care of this person or be able to carry him to evacuate him," a spokeswoman said.
After arriving in the UK, Mr Chenais described his ordeal as "terrible, terrible, terrible" but praised Virgin for arranging the flight.
"That was very kind of them, but I was very uncomfortable," he told AFP.
"I have a lot of problems with the skin on my thighs and the seat was small.
"The flight was really hard, I didn't stop crying for the whole flight."